Handcrafted Cocktails: The Mixologist's Guide to Classic Drinks for Morning, Noon & Night (Paperback)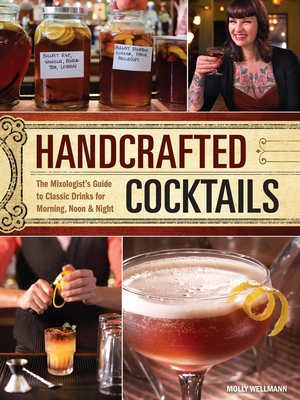 Description
---
Featured in People's "6 Cocktails for Day Drinking - That Won't Make You Sleepy Later," Handcrafted Cocktails helps you create the perfect cocktail, any time Enjoy classic cocktails in true pre-Prohibition style--throughout the day Inside you'll find more than 100 recipes for the perfect brunch cocktails, refreshing afternoon cocktails and invigorating happy hour drinks, plus dinner cocktails perfect for pairing with meals, and relaxing nightcaps.
Each cocktail recipe is carefully crafted to create the perfect balance of the sweet, the sour, the bitter and the spirit, producing a delicious drink every time. The secret is using fresh, house-made mixers. You'll find complete instructions for making your own simple syrups, bitters, liqueurs and cordials using unique ingredients such as cardamom, cilantro, rosemary, lavender, eucalyptus, five-spice and more.
Plus you'll learn the fascinating histories of classic pre-Prohibition cocktails such as the very vintage Sherry Cobbler and the silky smooth Ramos Gin Fizz and try some new Prohibition-inspired cocktails such as the Kitty Burke and Bees in Kilts. Give these great cocktails a taste--you're sure to discover your new favorite drink.
About the Author
---
Molly Wellmann is co-owner of Japp's, Japp's Annex, Neons and the Old Kentucky Bourbon Bar in Cincinnati, Ohio, and has been voted best mixologist/bartender in the city for three consecutive years. She has been featured in The New York Times, The Washington Post and The Cincinnati Enquirer.