The Butterfly's Daughter (Paperback)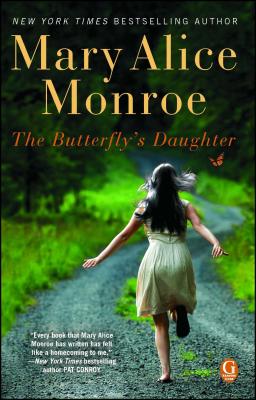 Staff Reviews
---
Luz Avila has lived with her grandmother – Abuela (Spanish for grandmother) - in Milwaukee, Wisconsin as long as she can remember. At 21, Luz has worked hard in a factory, helped pay the bills as much as she can and taken care of her Abuela as much as her Abuela has taken care of her. Luz has a boyfriend, Sully, who is almost every woman's dream: nice looking, hard-working and cherishes Luz. There are times when Luz thinks the best course in life is to marry Sully, settle down, continue to care for her Abuela and live out her days comfortably.

Soon, though, as you know it's going to happen, Abuela gets a phone call. She won't tell Luz who it is, but begins talking about taking a trip to San Antonio and Mexico, presumably where Abuela and, Luz, have relatives and where Abuela's beloved Monarch butterflies migrate.

Woven through the story of Luz and her Abuela are stories and myths about Mexican gods and goddesses, the biology and strength of the butterfly's life and the love of family and friends.

As Luz set out on the trip to Texas and Mexico in a rattletrap VW Bug, we watch her emerge as an adult. Along the way, Luz meets amazing women and men who help make her life's journey. I admired Luz for her willingness to embrace the unknown.

Monroe is a skilled writer. She clearly has done her research on biology of butterflies, and while I find the migrating experience fascinating, I thought the over-the-top, obvious symbolism and metaphors a bit contrived. Monroe DOES do an excellent job of depicting Milwaukee's South side. I'm from the general area and it was heartening to read her descriptions of the homes and neighborhoods I'm familiar with and know she's either been there or knew someone well enough to have that person describe it. (I recently read a book by someone who has NEVER been to Milwaukee, used the setting as the main city in the story and failed miserably – he didn't even have the streets running in the right direction!) The Butterfly's Daughter will take you on a trip from the Midwest to Mexico. Buckle-up, grab a drink of choice – let's ride! - Wendy, Redbery Books, Cable, Wisconsin — From Wendy's Easy Chair 2
Description
---
Mary Alice Monroe, New York Times bestselling author of the Lowcountry Summer trilogy, once again touches hearts with her lyrical, poignant, and moving novel The Butterfly's Daughter!

Every year, the monarch butterflies—las mariposas—fly more than two thousand miles on fragile wings to return to their winter home in Mexico. Now Luz Avila makes that same perilous journey south as she honors a vow to her beloved abuela—the grandmother who raised her—to return her ashes to her ancestral village. As Luz departs Milwaukee in a ramshackle old VW Bug, she finds her heart opened by a series of seemingly random encounters with remarkable women. In San Antonio, however, a startling revelation awaits: a reunion with a woman from her past. Together, the two cross into Mexico to await the returning monarchs in the little village Abuela called home, but they are also crossing a border that separates past from present . . . and truth from lies.
About the Author
---
Mary Alice Monroe is the New York Times bestselling author of more than twenty books, including the Beach House series: The Beach House, Beach House Memories, Swimming Lessons, Beach House for Rent, and Beach House Reunion. She is a 2018 Inductee into the South Carolina Academy of Authors' Hall of Fame, and her books have received numerous awards, including the 2008 South Carolina Center for the Book Award for Writing, the 2014 South Carolina Award for Literary Excellence, the 2015 SW Florida Author of Distinction Award, the RT Lifetime Achievement Award, the International Book Award for Green Fiction, and the 2017 Southern Book Prize for Fiction. Her bestselling novel The Beach House is also a Hallmark Hall of Fame movie. She is the cocreator and cohost of the weekly web show and podcast Friends & Fiction. An active conservationist, she lives in the lowcountry of South Carolina. Visit her at MaryAliceMonroe.com and at Facebook.com/MaryAliceMonroe.