Nora Webster: A Novel (Hardcover)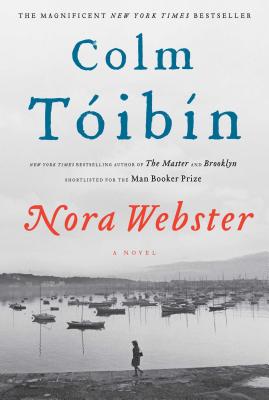 Staff Reviews
---
Every time a Colm Tóibín novel is released it is cause for celebration in the reading rooms in my home. He is one of the few writers who can do it all in my opinion: nonfiction, short stories or novels. He joins coveted spots on my bookshelves with Stephen King, Barbara Kingsolver, Pat Conroy and Nelson Demille.
Nora Webster is the story of a woman widowed in Ireland in the sixties. She marries Maurice who she's loved forever and who she thinks will be with her forever. As a teacher, he is respected and mostly revered. Together they have four children (two girls away at school; and two younger boys). When Maurice dies, Nora is adrift. She's stayed home with the children, kept house and made a wonderful home. She's never thought about money. Maurice always provided. Now, she is thrust into a mode she's not accustomed to – how much does it actually cost to run the household? She makes a huge decision and sells their weekend home. The older children struggle to understand. The younger children are still in shock from their father's death. It's unusual, but Nora has to think about how to feed her family. Remember, this is the sixties. Eventually, she goes back to a company she worked at before she married Maurice. It's a family run business. The owners all know Nora's situation and are eager to lend a hand. Their motives are questionable, but, again, that's my opinion. Maurice's family is a constant presence and honestly, Nora puts up with the dropping in unannounced and the interfering with the children's choices. Nora's aunt becomes somewhat of a pain (sorry, sorry – she's just obnoxious, in my opinion). After all, Nora's been a mother for years – she really doesn't need help with the sort of parenting they are pushing – she may need some help being a widow. She needs help stabilizing the children. Suffice it to say that Nora has her hands full, finding her way. It is exciting to see her blossom and grow as an individual. Nora realizes she has a voice, as a singer, as well as being able to stand up for herself, be strong. Tóibín makes no grandiose moves in the Nora Webster, but we see his skill in weaving together a story about mothers and their children (specifically, mothers and sons – Tóibín's specialty), politics of the time, societal issues, and how sometimes we simply must find our own way. Tóibín is a truly a master. How wonderful it was to have a story told without fits and starts in points of view. It was a feeling of satisfaction as I closed the back cover. If you are behind on reading Colm Tóibín, take heart – he's got a decent amount of material for you to sink your eyes into. Begin anywhere. Start with Nora Webster and work your way back – it's your choice. Either way, you will not be disappointed. -- Wendy, Redbery Books, Cable, Wisconsin
— From
Wendy's Easy Chair 3
October 2014 Indie Next List
---
"This quiet but beautifully constructed novel of grief is the tale of an Irish woman caught between looking after her own emotional well-being and that of her four young children in the wake of her husband's death. Her relatives and community mean well, but they trespass almost as often as they support. Like Nora's own missteps, those of outsiders are also forgivable. Toibin's work gets deeper and richer with each new book. I'm already looking forward to his next."
— Susan Scott, The Secret Garden, Seattle, WA
Description
---
From one of contemporary literature's bestselling, critically acclaimed and beloved authors, the magnificent, instant New York Times bestselling novel set in Ireland, about a fiercely compelling young widow and mother of four, navigating grief and fear, struggling for hope.

Set in Wexford, Ireland, Colm Tóibín's superb seventh novel introduces the formidable, memorable and deeply moving Nora Webster. Widowed at forty, with four children and not enough money, Nora has lost the love of her life, Maurice, the man who rescued her from the stifling world to which she was born. And now she fears she may be drawn back into it. Wounded, strong-willed, clinging to secrecy in a tiny community where everyone knows your business, Nora is drowning in her own sorrow and blind to the suffering of her young sons, who have lost their father. Yet she has moments of stunning empathy and kindness, and when she begins to sing again, after decades, she finds solace, engagement, a haven—herself.

Nora Webster is a masterpiece in character study by a writer at the zenith of his career, "beautiful and daring" (The New York Times Book Review) and able to "sneak up on readers and capture their imaginations" (USA TODAY). In Nora Webster, Tóibín has created a character as iconic, engaging and memorable as Madame Bovary or Hedda Gabler.
About the Author
---
Colm Tóibín is the author of nine novels, including The Blackwater Lightship; The Master, winner of the Los Angeles Times Book Prize; Brooklyn, winner of the Costa Book Award; The Testament of Mary; and Nora Webster, as well as two story collections, and Mad, Bad, Dangerous to Know, a look at three nineteenth-century Irish authors. He is the Irene and Sidney B. Silverman Professor of the Humanities at Columbia University. Three times shortlisted for the Man Booker Prize, Tóibín lives in Dublin and New York.
Praise For…
---
"A high-wire act of an eighth novel… Toibin's radical restraint elevates what might have been a familiar tale of grief and survival into a realm of heightened inquiry. The result is a luminous, elliptical novel in which everyday life manages, in moments, to approach the mystical… There is much about Nora Webster that we never know. And her very mystery is what makes her regeneration, when it comes, feel universal."

"[Nora Webster] may actually be a perfect work of fiction… There is no pyrotechny in the writing — just compassion and shrewd insight. Which is where Toibin's brilliance lies… People call Toibin a beautiful writer because they don't know how otherwise to classify such a delicate talent, such empathic simplicity. Some mysteries can't be deciphered by criticism. Colm Toibin is not a beautiful writer, he's merely a great one."

"Fascinating... Revelatory... More thoughtful than Emma Bovary and less self-destructive, in the end far and away a better parent than the doomed Anna Karenina for all the latter's dramatic posturing, Nora Webster is easily as memorable as either—and far more believable. To say more would spoil a masterful— and unforgettable—novel."
— Betsy Burton

"The Ireland of four decades ago is beautifully evoked… Completely absorbing [and] remarkably heart-affecting."

"Compelling…an emotionally satisfying read…powerful."

"Toibin's restraint, sly humor and gentle prose cadence echo those of another Irish master, William Trevor. So does his affection for his characters… How Nora chooses to make her voice heard and how her children find ways to express their own pain provide Nora Webster's plot and pleasure…a so-called average life can make for a thrilling read…Toibin presents one woman's life keenly observed and honored with compassion. With Enniscorthy, he also creates a town, constrained and forever behind the times though it is, that feels like the whole world."

"[A] quietly moving study of a complex character and her ambiguous feelings toward the web of family and neighbors surrounding her in the small town of Enniscorthy…. All his books share precise, restrained prose, which can, in its simplicity, reach elegance."

"Miraculous… a strikingly restrained novel about a woman awakening from grief and discovering her own space, her own will…extraordinary... [Toibin] portrays Nora with tremendous sympathy and understanding."

"Toibin artfully shows us a Nora unmoored…This quiet, wrenching novel conceals considerable human turbulence beneath its placid surface. So Toibin has learned well from Henry James…In many ways, Nora Webster would bring an admiring smile to the Master's lips."
— Daniel Dyer, Cleveland Plain Dealer

"A deeply moving portrait of the flowering of a self-liberated woman, Nora Webster tells the story of all the invisible battles the heart faces every day."
— Buzzy Jackson, Boston Globe

"Momentous, made with consummate art… It does everything we ought to ask of a great novel: that it respond to the fullness of our lives, be as large as life itself."

"Each paragraph of these pages rewards rereading, so deftly are they composed, and so full of pathos and insight."

"Richly detailed… Tóibín's slow pacing results in bright moments of beauty."

"Heart-rendingly transcendent… Mr. Toibin's prose has an elegant, visceral simplicity."
Coverage from NPR