Scrooge's Night Before Christmas (Hardcover)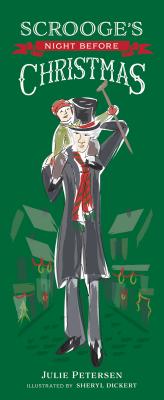 Description
---
In clever rhyme, this fully illustrated mash-up of Dickens' A Christmas Carol and Moore's The Night Before Christmas typifies the subtle wittiness of British humor. The poem begins, "'Twas the day before Christmas and Marley was dead--As dead as a door nail, so the old simile read." Once we know the backstory of Scrooge's nasty temper, we meet in succession the Ghosts of Christmas Past, Present, and Future, along with the nephew Fred, Cratchits and the Fezziwigs. We know that Scrooge has reformed when hear him bellow Santa's traditional refrain, "Happy Christmas to all and to all a good night."
Julie Peterson is a sales associate for a Utah publisher. She loves to sing and spends a lot of her free time with her nose buried in classic literature.
Sheryl Dickert is a graphic designer who strives for historical accuracy in costuming and style. She has illustrated all the books in this Night Before Christmas series.