Healthyish: A Cookbook with Seriously Satisfying, Truly Simple, Good-For-You (but not too Good-For-You) Recipes for Real Life (Hardcover)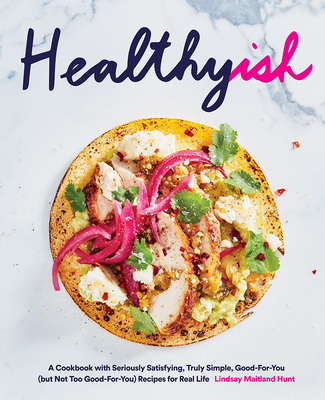 Description
---
Healthyish is recipe developer Lindsay Maitland Hunt's totally doable, delicious, and dead-simple cookbook, helping us to eat how we all want to eat—healthy, but with an occasional bit of decadence.
Lindsay Maitland Hunt is an expert recipe developer who has created recipes for everyone from college students to busy families to seasoned home cooks. Now, she brings her trademark skillset to her debut cookbook,
Healthyish.
For anyone on the move, working long hours, and trying to eat a bit more healthfully,
Healthyish
offers 131 satisfying recipes with straightforward instructions, using as few pots and pans as possible, and ingredients that won't break the bank. Not to mention, you can find the ingredients at your everyday grocery store (no garam masala or açai berries here!).
Emphasizing balanced eating rather than fad diet tricks, Hunt includes guilt-free recipes for every meal of the day, from breakfast to snacks to dinner, and yes, even
Healthyish
treats, such as:
Banana–Avocado Chai Shake
Peanut Butter Granola
Salty Watermelon, Feta, Mint, and Avocado Salad
Miso–Butter Toast with a Nine-Minute Egg
Pozole with Pinto Beans and Queso Fresco
Spiced Chicken and Chickpea Flatbreads with Cucumber–Dill Tzatziki
Single-Serving Chocolate and Peanut Butter Cookie
Designed for novices and experienced cooks alike, Hunt's meticulously considered recipes offer crowd-pleasing flavor profiles and time-saving tips and tricks, and her vegetable-centric dishes, with an occasional dash of meat, dairy, and decadence, are showcased in vibrant, mouthwatering photographs.
Destined to be an everyday kitchen essential, filled with splattered and dog-eared pages,
Healthyish
is a call for simple ingredients, food that makes us feel good, quick prep, and even quicker cleanup, so we all can enjoy what's most important at the end of a long day: getting back to the couch.
About the Author
---
Lindsay Hunt was previously an editor at BuzzFeed Food and Real Simple. She lives in Brooklyn, New York.
Praise For…
---
"Take the hassle out of healthy eating with this new release from expert recipe developer Lindsay Maitland Hunt. A guilt-free guide to nutrition, Healthyish emboldens you to dine on indulgences like shakes and cookies while also showing you how to spice up your salad. Each recipe is fit for both the cooking-averse and pros."
— Real Simple
"What if sweets could be delicious and indulgent but—wait for it—not completely ruinous? Lindsay Maitland Hunt, author of the new book Healthyish, has managed to solve this riddle. Her beyond-simple treats are perfectly portioned so you can't overdo it, plus they come together in 10 minutes or less and taste divine."
— Redbook
"Each recipe, presented in full color photographs, delivers on the book's conceptual promise: flexible recipes that turn out just like the pictures and, in her words, make you "feel good, not sad." Just what we need in January—and beyond."
— Edible Manhattan
"A delicious and dead-simple cookbook for easy meals."
— Seventeen.com
"Diet books come and go, but the real truth is that we already know how to be healthier: eat more good stuff and less junk. The trouble, as usual, is in implementation. What Lindsay has done in Healthyish is given us a set of simple, streamlined, well-tested recipes, techniques, and ideas that are designed to fit your schedule and skill level. They're full of the good stuff with only the occasional dollop or swirl of the junk. The best part: These recipes lead to real food. Not diet food. Not fad food. No miracle ingredients, no promises of X amount of weight lost in Y days, just great food you'll actually feel like eating (and most importantly, you'll feel good about eating)."
— J. Kenji López-Alt
"This is THE cookbook for the modern generation. Every recipe is smart, sensible—but completely mouthwatering. Healthyish is a delight for all senses, but not the fleeting kind—you'll be turning to this book for decades."
— Sarah Copeland
"Healthyish is a gorgeous book full of easy to execute recipes and clever, practical advice for how to cook in the world we actually live in, not just the world we want to live in. For anyone looking for clean, delicious, good-for-you eating (sans maca powder), this book is for you."
— Alison Roman
"In Healthyish, Lindsay achieves the balance so many of us are looking for. The move toward healthier eating can seem daunting, or somehow difficult, but here there is a bolstering cheeriness on every page. Her sensible, totally doable recipes are still vibrant and all-out tempting—the Pozole with Pinto Beans and Queso Fresco is the stuff of dreams. But what's more, Lindsay pairs those dishes with thoughtful and thorough lessons on basic framework recipes or principles, and it's that foundation that will make the difference in so many kitchens and in the way we eat."
— Tara O'Brady