Creating the Worlds of Star Wars: 365 Days (Hardcover)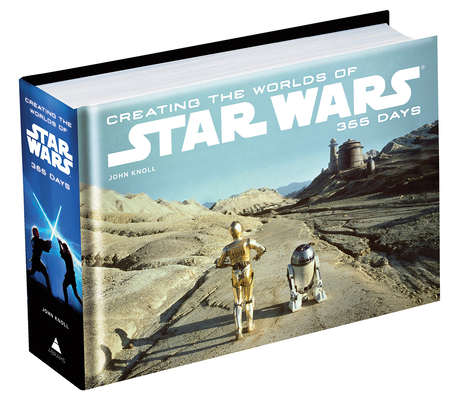 Description
---
John Knoll was 14 years old when the first Star Wars film (Episode IV) came out in 1977, and it changed his life. By the time the first prequel, The Phantom Menace, was released in 1999, he was its visual effects supervisor—in charge of all special effects—a position he held through Episodes II (Attack of the Clones) and III (Revenge of the Sith). With Knoll as tour guide, this deluxe addition to Abrams' 365 Days series provides the single most comprehensive collection of Star Wars images, including breathtaking 360-degree panoramic shots of sets and models, as well as concept art, props, film stills, and memorabilia.

The only book that covers all six films, Star Wars: 365 Days is Knoll's spectacular survey of the visual world created by those films. It shows us George Lucas and his crew creating their universe on location and in the studio—in pages dense with imagery and information, documenting a remarkable sustained creative effort by hundreds of devoted filmmakers and craftsmen.
About the Author
---
J. W. Rinzler, former executive editor at Lucasfilm Ltd., is the author The Making of Star Wars, The Complete Making of Indiana Jones, and The Star Wars, the #1 New York Times bestselling graphic novel, adapted from George Lucas's original rough draft. Marcia Lucas is an Academy Award–winning film editor who's worked on such legendary films as Star Wars, American Graffiti, Taxi Driver, and Alice Doesn't Live Here Anymore.