The Magician's Lie (Hardcover)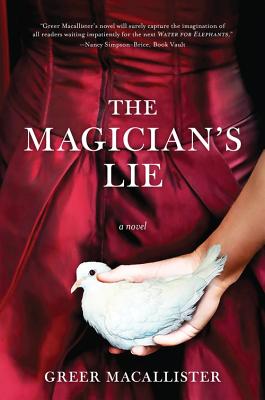 Staff Reviews
---
Greer Macallister has created an entertaining tale of an illusionist's life in 1900s America.
I'm not telling you anything the book jacket doesn't when I tell you that The Amazing Arden is in a bit of a jam. She is accused of murdering her husband onstage during a performance.Virgil Holt, a local policeman, has big problems of his own and he's not letting go of Arden any time soon. Part of The Magician's Lie is the story of Virgil's meeting with Arden and his determination to get to the bottom of the murder. The other portion of Macallister's novel is to see where Arden has come from and how she ended up in Holt's handcuffs.
The Amazing Arden begins life as Ada Bates and Ada Bates begins life as a dancer. Hers is a tough life and when she meets Ray, a vicious young man, Ada takes charge and ventures out into the world. There's something about Ray that is hard to believe and it scares Ada enough that she knows she has to leave her family to get away from him.
Ada tries to follow her dream to dance on the stage. Along the way she meets another young man who changes her life as much as Ray, but in a more encouraging way. Clyde is the first person to make Ada believe she's beautiful and talented. Unfortunately, he breaks her heart.
After one of her performances onstage, Ada is approached by Adelaide, a traveling illusionist. She needs a worthy replacement for herself and after seeing Ada perform, has decided Ada is the one. There IS a catch, but I'm not going to tell you.
Ada becomes The Amazing Arden and builds a rather exciting life. The past comes screeching to the present, and makes Arden realize she has to clean up the past before her future can be what wants it to be.
Hop on this train of Greer Macallister's The Magician's Lie and find a novel that will almost remind you of Erin Morgenstern's Night Circus. Deep, rich characters from start to finish and a storyline that will keep you guessing. Delicious way to spend a winter weekend.
-- Wendy, January 2015, Redbery Books, Cable, Wisconsin
— From
Wendy's Easy Chair 3
Description
---
A USA Today Bestseller
" A] well-paced, evocative, and adventurous historical novel..."--Publishers Weekly, STARRED Review
"This is a book in which storylines twist, spiral and come together again in an ending as explosive as a poof of smoke from your chimney...or a top hat." -- Oprah.com
Water for Elephants meets The Night Circus in The Magician's Lie, a debut novel in which the country's most notorious female illusionist stands accused of her husband's murder - and she has only one night to convince a small-town policeman of her innocence.
The Amazing Arden is the most famous female illusionist of her day, renowned for her notorious trick of sawing a man in half on stage. One night in Waterloo, Iowa, with young policeman Virgil Holt watching from the audience, she swaps her trademark saw for a fire ax. Is it a new version of the illusion, or an all-too-real murder? When Arden's husband is found lifeless beneath the stage later that night, the answer seems clear.
But when Virgil happens upon the fleeing magician and takes her into custody, she has a very different story to tell. Even handcuffed and alone, Arden is far from powerless-and what she reveals is as unbelievable as it is spellbinding. Over the course of one eerie night, Virgil must decide whether to turn Arden in or set her free... and it will take all he has to see through the smoke and mirrors.
"Smart, intricately plotted...a richly imagined thriller." --PEOPLE magazine
"This debut novel is historical fiction that blends magic, mystery, and romance."--Boston Globe, Pick of the Week
"It's a captivating yarn.... Macallister, like the Amazing Arden, mesmerizes her audience. No sleight of hand is necessary. An ambitious heroine and a captivating tale are all the magic she needs."--Washington Post