The Big Redhead Book: Inside the Secret Society of Red Hair (Hardcover)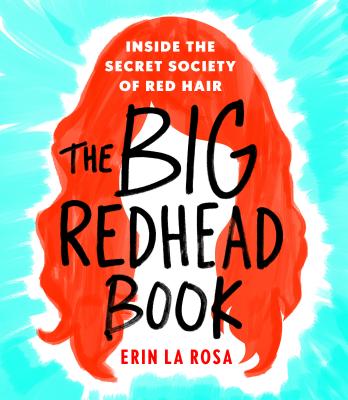 Description
---
The Big Redhead Book: Inside the Secret Society of Red Hair is an inside look into one of the most elite societies in the world—the real two percent. Well, you know, the two percent of the world's population that are natural redheads, at least. This book has equal parts pop culture, ginger facts, and humorous stories about what it's like to actually have red hair. It's loaded with everything you'd ever want to know about us reds; how we're scientifically different from the norms (non-redheads), how we've been stereotyped in pop culture, and the do's and don'ts of having a red in your life, among other things!
Whether you are a redhead, know a redhead, or are just an enthusiast, this book explores the realities, the myths, and where red hair actually originates (it's not Ireland). Author Erin La Rosa not only delivers the facts, statistics, and undeniable realities of being a ginger, but she also weaves in her own personal and hilarious stories about being red. Being a redhead is not just a hair color, it's a lifestyle—and this book is your own exclusive peek into that fabulous world.
Some surprising facts about redheads that you will discover include:
- The association between redheads and humor came from redheaded slaves in ancient Greece
- There are over 30 leading or recurring redhead characters in Disney and Pixar films... that's a lot when you remember we're only two percent of the world's population!
- Redhead women allegedly have more sex, more threesomes, and more orgasms than other women... or do they? Let's find out!
- Some Egyptian rulers dyed their hair red to assert their power (looking at you, Cleopatra)
- And redheads need more anesthesia at the dentist, because they're not going down without a fight
About the Author
---
ERIN LA ROSA is a writer and performer living in Los Angeles. She received her MA in writing from the University of Southern California, and a BA in Fiction from Emerson College. As the Bureau Chief for BuzzFeed Los Angeles, she frequently writes about the perils and triumphs of being a redhead, along with her love of whiskey, being an introvert, and various TV shows she's obsessed with. Before BuzzFeed, Erin worked for the comedy websites Funny or Die and MadAtoms, as well as E!s Fashion Police, Wetpaint, and Ecorazzi. Storytelling has always been a passion for Erin, and she has performed in such storytelling series as MORTIFIED, "Funny but True" at the LA Times Book Festival, and Sunday Night Sex Talks. In the last year alone, Erin has appeared on CNN, Headline News, Jimmy Kimmel, and The Today Show on behalf of BuzzFeed. She is the author of Womanskills and The Big Redhead Book.
Praise For…
---
"The definitive redhead book." —CBS Chicago
"Fascinating . . . [A] fun, trivia-filled tome." —LA Weekly

"Fascinating facts fill the new tome The Big Redhead Book." —The New York Post

"The Big Redhead Book . . . lists some pretty impressive facts about rangas—including that we have superpowers." —Marie Claire
"The Big Redhead Book tells the fascinating history, science, and culture of red hair. La Rosa's genuinely interesting ginger facts, coupled with her quick wit, will have you laughing out loud with redheads, not at them. It might even make you want to dye your hair." —HelloGiggles
"Hilarious storyteller Erin la Rosa . . . uses photos, illustrations, lists and charts to deliver this rare and exclusive peek behind the curtains of red hair. . . . This book is so jam-packed with ginger goodness that it's surprising that you can actually close it. So whether you're a natural redhead or simply an admirer of them, take a nosey into the treasured world of red hair, ginger genetics and all the glorious quirks that come with being a redhead. Keep it on your coffee table, by your bedside, and in your heart." —Ginger Parrot
"Our time has come. A glorious roller-disco of a romp through every redhead and every redhead moment in pop-culture today, and a ginger call to arms—startling, surprising, intriguing, revealing; sassy and brave, and funny with it. Buy a copy for your redhead friends; buy two for any redhead enemy." —Jacky Colliss Harvey, author of Red: A History of the Redhead
"Smart, funny, original, fun to read . . . A great summer read, regardless of what color your hair is. A book you'll carry in your bag until you've read the last page, even if you don't usually read books. Erin La Rosa has achieved that rare fusion of insight and entertainment that we may not really need, but desperately want." —Gina B. Nahai, author of Cry of the Peacock, Moonlight on the Avenue of Faith, Sunday's Silence, and Caspian Rain

"Who knew that living la vida roja was so special? After reading this witty and insightful book, I was close to pleading with my hairdresser to color my unexciting brunette locks a dazzling shade of red." —Delia Cabe, author of Storied Bars of New York: Where Literary Luminaries Go to Drink
"This is no book—it's a bible. . . . Erin's writing is witty, engaging and relevant. . . . If you're looking for a heavy dose of ginger pride, unbridled hilarity and a matchless redhead guide, get your hands on it!" —Redhead Inc.
"Perfect for my (former) fellow redheads! . . . It's all done with sharp wit and surrounded by interesting statistics and fun quotes from notable figures. . . . The entire book is clever, funny, and informative. Even if you're not a redhead and don't plan on becoming one anytime soon—it's still a good and enjoyable read." —Blondie Birdie