Does This Book Make My Butt Look Big?: A Cheeky Guide to Feeling Sexier in Your Own Skin & Unleashing Your Personal Style (Hardcover)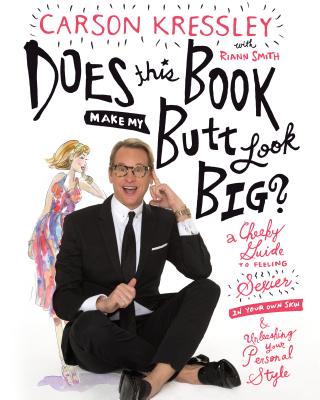 Description
---
A hilarious style guide for women from fashion guru Carson Kressley, the Emmy-winning TV star and New York Times bestselling author of Queer Eye for the Straight Guy.

Carson Kressley, the Emmy-winning TV star and New York Times bestselling author of Queer Eye for the Straight Guy, has spent the last decade transforming thousands of women and connecting with millions more on Oprah Winfrey, Good Morning America, and countless other national broadcasts. He knows what makes women tick. Whether we live in Tacoma or Tallahassee, there is a common thread among all of us: we want to feel beautiful but don't always know where to start. We're frequently frustrated by fashion and can't figure out which trends to follow and which to flee.

Does This Book Make My Butt Look Big? is a roadmap for all of us to build unshakable body and fashion confidence. Nowhere else is there a fun and accessible book created for the underserved masses like us, who just want to get out the door looking and feeling fabulous. Who don't have gobs of money to drop on our wardrobe and feel left out of the game. And when it comes to how we feel about our bodies, all we see are roadblocks...and signs for Burger King!

We need to be reminded that fashion is FUN. We need to know that with the right tools, we have the power to transform our self-perception by shifting our mindset from woe-is-me to wow-is-me. We need the secrets of playing to our strengths and minimizing our flaws. We need to take more chances, and leave what doesn't work in the dust. Most of all, we need Carson, our peppy, blond fairy godstylist, to show us the way!

Includes full-color photographs and illustrations throughout.
About the Author
---
Carson Kressley is a television star, celebrity stylist, fashion designer and author. Regarded as one of the fashion industry's most sought-after makeover experts, Carson has touched the lives and wardrobes of millions of viewers around the world for more than a decade. The breakout star of the legendary Fab Five, he earned a primetime Emmy in 2004 for his role on Bravo's hit series, Queer Eye for the Straight Guy. On the heels of the show's success, Carson was named host of the critically acclaimed series How to Look Good Naked, which premiered in 2008 on the Lifetime Network to record numbers in the network's target demographic of women aged 18-34, as well as adults aged 18-49.

A frequent style contributor to the Oprah Winfrey Show, Carson was plucked by Oprah to host Carson Nation on Oprah's OWN Network in 2011, in which he traveled to small towns all over the U.S. to make over America, one closet at a time. No stranger to the catwalk, he served as a judge and commentator for the Miss Universe Pageant as well as a commentator for the Miss USA pageant, and was voted fan favorite on Season 13 of Dancing With the Stars. Carson is currently a style contributor to ABC's Good Morning America and Live With Kelly! and is called on to cover the Oscars and red carpets coast to coast with his jaunty humor, wit and diamond-sharp expertise.

As a natural evolution of his ever-expanding brand, Carson's fashion line for women, Love, Carson, debuted on Shop NBC in 2012. It features women's sportswear and accessories, designed to celebrate every body type and offer glamour with an affordable price tag. He is co-author of New York Times Bestseller Queer Eye for the Straight Guy: The Fab 5's Guide to Looking Better, Cooking Better, Dressing Better, Behaving Better, and Living Better (Clarkson Potter, 2004), author of Off The Cuff: The Essential Style Guide for Men and the Women Who Love Them (Penguin, 2004) and the children's book, You're Different and That's Super! (Simon & Schuster, 2005). When he's not devoting his off-camera time to philanthropic causes, Carson can be found in the saddle. He is a nationally-ranked equestrian and was crowned World Champion Amateur Rider in 2009.
Riann Smith
is an author and FOLIO-winning lifestyle writer who covers fashion, celebrities, food, home design, pop culture trends, travel and weddings. She ghostwrote the bestselling book
The Modern Girl's Guide to Life
, based on the Style Network's popular series. For over a decade, Smith was Deputy Editor at
Cosmopolitan
,
The Nest
and thenest.com. Riann's work has been featured in numerous publications including
AtHome
,
Cosmopolitan
,
Fairfield Living
,
Greenwich
,
Modern Luxury
,
Marie Claire
,
Martha Stewart Weddings
,
The Knot
,
The Nest
,
The Bump
, the
Daily News
, the
New York Post
,
Redbook
, and
Westport
. She has appeared as a lifestyle expert on
The Today Show
, Bloomberg, CNN, CBS News, Fox News and SiriusXM Radio. Riann graduated Magna Cum Laude from Columbia University. She resides in Connecticut with her husband and son and frequently escapes to her hometown of Santa Barbara. Thankfully, both are less than an hour away from Neiman Marcus.
Praise For…
---
"In a time when social media raises the bar on beauty to unobtainable levels, Carson wants to help women find self-acceptance right in their own closets. The former Queer Eye TV personality set out to make dressing fun and guide women to feel good about themselves in his new book, Does This Book Make My Butt Look Big? A Cheeky Guide To Feeling Sexier In Your Own Skin & Unleashing Your Personal Style." - HuffPost