Statistical Methods for Reliability Data (Hardcover)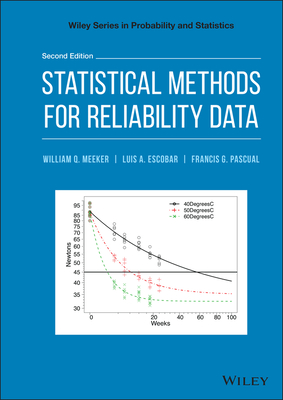 $105.00

Available in our warehouse. Ships in 2 - 3 Days
Description
---
An authoritative guide to the most recent advances in statistical methods for quantifying reliability
Statistical Methods for Reliability Data, Second Edition (SMRD2) is an essential guide to the most widely used and recently developed statistical methods for reliability data analysis and reliability test planning. Written by three experts in the area, SMRD2 updates and extends the long- established statistical techniques and shows how to apply powerful graphical, numerical, and simulation-based methods to a range of applications in reliability. SMRD2 is a comprehensive resource that describes maximum likelihood and Bayesian methods for solving practical problems that arise in product reliability and similar areas of application. SMRD2 illustrates methods with numerous applications and all the data sets are available on the book's website. Also, SMRD2 contains an extensive collection of exercises that will enhance its use as a course textbook.
The SMRD2's website contains valuable resources, including R packages, Stan model codes, presentation slides, technical notes, information about commercial software for reliability data analysis, and csv files for the 93 data sets used in the book's examples and exercises. The importance of statistical methods in the area of engineering reliability continues to grow and SMRD2 offers an updated guide for, exploring, modeling, and drawing conclusions from reliability data.
SMRD2 features:
Contains a wealth of information on modern methods and techniques for reliability data analysis
Offers discussions on the practical problem-solving power of various Bayesian inference methods
Provides examples of Bayesian data analysis performed using the R interface to the Stan system based on Stan models that are available on the book's website
Includes helpful technical-problem and data-analysis exercise sets at the end of every chapter
Presents illustrative computer graphics that highlight data, results of analyses, and technical concepts
Written for engineers and statisticians in industry and academia, Statistical Methods for Reliability Data, Second Edition offers an authoritative guide to this important topic.
About the Author
---
William Q. Meeker, PhD, is Professor of Statistics and Distinguished Professor of Liberal Arts and Sciences at Iowa State University. He is a Fellow of the American Association for the Advancement of Science, the American Statistical Association, and the American Society for Quality. Luis A. Escobar, PhD, is a Professor in the Department of Experimental Statistics at Louisiana State University. He is a Fellow of the American Statistical Association, an elected member of the International Statistics Institute, and an elected Member of the Colombian Academy of Sciences. Francis G. Pascual, PhD, is an Associate Professor in the Department of Mathematics and Statistics at Washington State University.