Heroes of the Frontier (Paperback)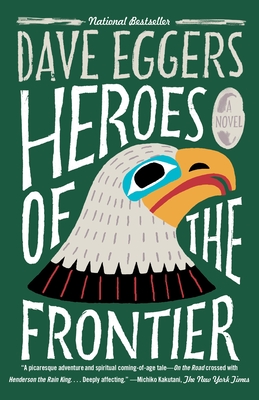 Staff Reviews
---
Feel like making a happy escape? Then join one disgraced mom fleeing suburban life, two kids and a rotting RV on this touching and funny road trip into the wilds of Alaska. The children are truly the heroes of this story, and for once we're left feeling uplifted at the end of their adventure. -- Susan, Redbery Books, Cable, Wisconsin
— From
Staff Picks
Description
---
A darkly comic and "deeply affecting" tale (The New York Times) of a mother and her two young children on a journey through an Alaskan wilderness plagued by wildfires and a uniquely American madness. • From the bestselling author of The Circle.

"A picaresque adventure and spiritual coming-of-age tale—On the Road crossed with Henderson the Rain King." —The New York Times

A captivating, often hilarious novel of family and wilderness, this is a powerful examination of our contemporary life and a rousing story of adventure.

Josie and her children's father have split up, she's been sued by a former patient and lost her dental practice, and she's grieving the death of a young man senselessly killed shortly after enlisting. When her ex asks to take the children to meet his new fiancée's family, Josie makes a run for it to Alaska with her kids, Paul and Ana. At first their trip feels like a vacation: they see bears and bison, they eat hot dogs cooked on a bonfire, and they spend nights parked along icy cold rivers in dark forests. But as they drive in their rattling old RV, pushed north by the ubiquitous wildfires, Josie is chased by enemies both real and imagined, and past mistakes pursue her tiny family, even to the very edge of civilization.
About the Author
---
DAVE EGGERS is the author of many books, among them The Circle, The Eyes and the Impossible, The Monk of Mokha, A Hologram for the King, What Is the What, and The Museum of Rain. He is the cofounder of 826 Valencia, a youth writing and tutoring center which has inspired dozens of similar nonprofit organizations around the world, and the founder of McSweeney's, an independent publisher. He has been a finalist for the Pulitzer Prize, the National Book Award, and the National Book Critics Circle Award, and is the recipient of the Dayton Literary Peace Prize, the Muhammad Ali Humanitarian Award for Education, and the American Book Award.
Praise For…
---
"Among his bestselling literary fiction peers, Dave Eggers alone is engaged in a sustained effort to write about contemporary America. He's been going at it so regularly, and so swiftly, that he's keeping pace with the times, if not getting a half-step ahead… When Eggers draws the present into his fiction, it's there not just as window dressing or setting; it tells us something about ourselves… Heroes gives us a woman who's at the end of her rope, in a place of salvation without the wherewithal to seek it, as its promise goes up in flames."
—Carolyn Kellogg, Los Angeles Times

"This is a novel about America, about what forces people to leave 'the lower 48' to seek refuge in a forbidding, unpeopled landscape… Eggers renders it with such passion and good humour, and describes the 'land of mountains and light' in such stirring, lustrous prose… There is a feeling of utopianism about the novel, a sense that, in Alaska, some original American dream slumbers just beneath the ice… Heroes of the Frontier acts on the reader like a breath of Alaskan air, cleansing the spirit and lifting the heart."
—Alex Preston, The Guardian (U.K)

"The phenomenally productive Eggers has talent to spare… In his books he has revealed a remarkable aptitude for inhabiting otherness and illuminating the world's darker corners… Heroes of the Frontier again offers complex, believable characters… Entertains, often spectacularly."
—Barbara Kingsolver, The New York Times Book Review

"Captivating…. Part adventure, part social critique, the book is occasionally harrowing and often very funny… As Eggers takes Josie through wildfires, avalanches, lightning strikes and narrow escapes from the long arm of the law, he suggests there's something a little heroic in all of us." —Georgia Rowe, San Jose Mercury News
 
"Eggers, writing with exuberant imagination, incandescent precision, and breathless propulsion, casts divining light on human folly and generosity and the glories and terror of nature. This uproarious quest, this breathless journey from lost to found, this delirious American road-trip saga, is fueled by uncanny insight, revolutionary humor, and profound pleasure in the absurd and the sublime."
—Donna Seaman, Booklist (Starred Review)