I Was Anastasia (Paperback)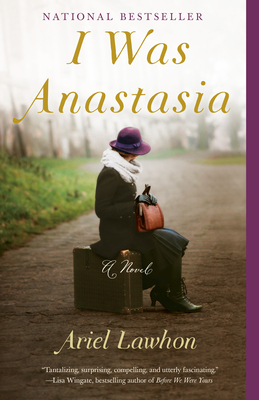 $16.00

Available in our warehouse. Ships in 2 - 3 Days
Staff Reviews
---
T.H.U.R.S. Book Club selection, August 2019, Redbery Books, Cable, WI.
— From
T.H.U.R.S. Book Club
April 2018 Indie Next List
---
"By far the best historical fiction title I've read in a long time! Not only is the story historically accurate, but the way it unfolds is unique and significantly adds to the plot and character development. Even though most readers today probably know how the book ends before they even start it, Ariel Lawhon's masterful storytelling will leave you cheering for or jeering at one of the Anastasias - which one is up to you!"
— Kari Erpenbach, University of Minnesota Bookstores, Minneapolis, MN
Description
---
NEW YORK TIMES BESTSELLER • An enthralling feat of historical suspense that unravels the extraordinary twists and turns in Anna Anderson's fifty-year battle to be recognized as Anastasia Romanov. Is she the Russian Grand Duchess or the thief of another woman's legacy?

"Tantalizing, surprising, compelling, and utterly fascinating."—Lisa Wingate, New York Times bestselling author of Before We Were Yours

Countless others have rendered their verdict. Now it is your turn.

Russia, July 17, 1918: Under direct orders from Vladimir Lenin, Bolshevik secret police force Anastasia Romanov, along with the entire imperial family, into a damp basement in Siberia, where they face a merciless firing squad. None survive. At least that is what the executioners have always claimed.

Germany, February 17, 1920: A young woman bearing an uncanny resemblance to Anastasia Romanov is pulled shivering and senseless from a canal. Refusing to explain her presence in the freezing water or even acknowledge her rescuers, she is taken to the hospital where an examination reveals that her body is riddled with countless horrific scars. When she finally does speak, this frightened, mysterious young woman claims to be the Russian grand duchess.     

As rumors begin to circulate through European society that the youngest Romanov daughter has survived the massacre at Ekaterinburg, old enemies and new threats are awakened. The question of who Anna Anderson is and what actually happened to Anastasia Romanov spans fifty years and touches three continents. This thrilling saga is every bit as moving and momentous as it is harrowing and twisted.

Don't miss Ariel Lawhon's new book, The Frozen River!
About the Author
---
ARIEL LAWHON is a critically acclaimed author of historical fiction. She is the author of The Wife the Maid and the Mistress, Flight of Dreams, and I Was Anastasia. Her books have been translated into numerous languages and have been Library Reads, One Book One County, and Book of the Month Club selections. She is the co-founder of SheReads.org and lives in the rolling hills outside Nashville, Tennessee, with her husband, four sons, black Lab, and a deranged Siamese cat. Both pets are, thankfully, girls.
Praise For…
---
"[Lawhon's] effortless, eloquent prose transports the reader via a dramatic, suspenseful and satisfying work of historical fiction...Lawhon brilliantly employs an inventive and non-linear dual narrative to tell the tale of how Anastasia would become Anna Anderson, or, perhaps, how Anna became Anastasia....In the end, what Lawhon does so convincingly is shake up our notion of identity. And not just that of Anastasia and Anna. Are we who we say we are, or who others believe us to be? It's a question that lingers long after the final page."
—USA Today

"I Was Anastasia is a wild train trip through time. The doors swish open here, then there, scenes sometimes racing by, sometimes drifting far into the mysterious lives of Anastasia Romanov and Anna Anderson. Every view is tantalizing, surprising, compelling, and utterly fascinating. Ariel Lawhon unfolds a complicated story with skill, style, and compassion."
—Lisa Wingate, New York Times bestselling author of Before We Were Yours

"A young Tsarina traveling towards tragedy and an aging Grand Duchess penniless and betrayed. Twin stories so gripping you will believe history itself can be rewritten. Told with masterful intensity and moments of true human compassion."
—Helen Simonson, New York Times bestselling author of The Summer Before the War

"Ariel Lawhon is a masterful storyteller; I Was Anastasia is a wild ride, extravagant with its vivid sensory experiences and page turning suspense. Inspired by history, and infused with imagination and intrigue, this novel satisfies with every twist and turn. I was both captivated and enchanted; I will carry this story—from its beguiling opening to its catch-my-breath ending —  in my heart and imagination for a long, long while."
—Patti Callahan Henry, New York Times bestselling author of Driftwood Summer and The Bookshop at Water's End

"The fate of the Grand Duchess Anastasia, youngest daughter of the last Tsar, is an old mystery that never gets old. In the hands of Ariel Lawhon, it springs to life again, challenging everything we believe about what we remember and who we are. Was Anna Anderson really the only survivor of the Romanovs or was she a persistent fraud? Somehow, Lawhon, a masterly writer, not only leads her readers to ponder this riddle, but to care about it as well. This is a deft and deeply moving saga."
—Jacquelyn Mitchard, New York Times bestselling author of The Deep End of the Ocean

"I don't know what's most impressive about I Was Anastasia: the wildly inventive structure, the ferocious heroine (or is it two?), or the dark, twisted questions it raises about the stories we tell—both to others and to ourselves. Ariel Lawhon has written a gorgeous, haunting puzzle of a book that will grip you until the final page."
—Karen Abbott, New York Times bestselling author of Sin in the Second City and Liar Temptress Soldier Spy