It Could Be Worse: A Girlfriend's Guide for Runners who Detest Running (Paperback)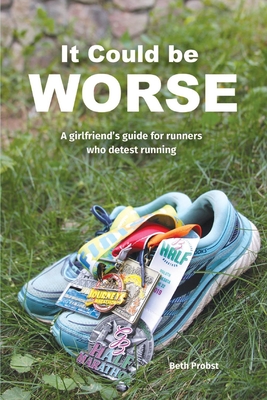 Description
---
Beth Probst is a non-athlete. Or so she believes. After a few too-many mojitos at a dinner party with friends (including a few "real" runners) she decides to give running a try. So she signs up for a half-marathon. After all, everyone seems to be doing it. And she's Finnish-stubborn. She's never run, but… how hard can it be?

After a not-even-mediocre first attempt, one plus-size would-be runner discovers a truth about breaking into running from a sedentary state: it's hard. Really hard. Like… F-bomb hard. But instead of quitting, she digs in and discovers the mental, physical, and wardrobe challenges of her undertaking— and the rewards.

About the Author
---
Beth Probst is a mediocre, plus-size runner living in rural northern Wisconsin. In 2011, she made a promise to herself to run a half-marathon but refused to lose a toenail in the process. Today, she's proud to say she's crossed dozens of finish lines and snapped countless selfies from her vantage point at the back of the pack-- with all her toenails intact. In her first book, Beth shares her insecurities, the highs and lows of her running journey, and the lessons she's learned along the way. She hopes this honest account packed with humiliating stories, practical tools and empowering words of wisdom from her favorite female running friends will inspire others like her to move from the sidelines to the starting line. Learn more at bethprobst.com.