The Art of Whisky (Paperback)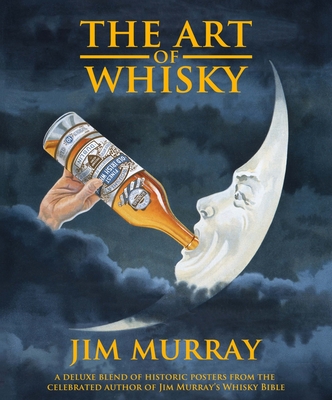 $29.95

Available in our warehouse. Ships in 2 - 3 Days
Description
---
THE MAKING OF WHISKY is an art in itself - distilling, ageing in cask, blending, all for the enjoyment of lovers of the complex blend or the noble single malt. But another art form is rediscovered in this superb selection of over 70 nineteenth and early twentieth century posters and showcards designed to advertise the Scotch and Irish whiskies of the time. With the charming naivety of an industry still in its infancy, these distinctive and highly-prized products spread through the British Empire and the rest of the world with the aid of kilted Scotsmen with flaming beards and Irishmen dressed invariably in green. And, to add to the romance, these nationalistic ambassadors worked to a backdrop of Celtic mists and mountains and with a nifty peg or wee dram in hand.
The story of whisky's rise from its beginnings in hidden pot stills to its public perception as a refined and stylish drink for all classes by the turn of the twentieth century is chronicled in a short introductory history. Jim Murray's witty and knowledgeable captions not only give an insight into the posters but tell the story of the whisky companies who commissioned them, the brands they were advertising and even allow glimpses into the social history of the period as it is reflected in these precious pieces of commercial art.
For eighty years the posters remained mostly unseen in the files of the British Public Record Office (now The National Archives) at Kew until reproduced, many for the first time, in all their glory in 1998, when a small print run of this book was published in paperback form. Updated and now in hardback these priceless posters can be enjoyed once more. Some are simple, some are sophisticated, but all will appeal to both the whisky and the art lover as immensely attractive examples of a now largely forgotten form of art: The Art of Whisky.
About the Author
---
Jim Murray – Whisky Author Jim Murray is a legend and leading player on the world's whisky stage. In his continuous thirst for knowledge and desire to stay at the very top of his subject he has almost certainly visited more distilleries and tasted a higher number of different whiskies than anyone who has ever lived. Jim visited his first distillery in 1975 and after seventeen years of research and discovery made the brave step of going full time. So, in the Spring of 1992, he gave up his position as a journalist for a British national newspaper to create an entirely new branch of journalism; indeed, the descriptive style of tasting notes he created and cultivated in those early days is now widely used throughout the industry. Since then he has sold more than three quarters of a million copies of his many books in various languages and in over 30 countries. Of those books sold more than half have been his annual publication Jim Murray's Whisky Bible for which he now tastes over 1,000 new whiskies each year. His vast knowledge of whisky has put him in demand as a consultant blender giving him a unique insight into the subject from both sides of the fence and resulting in awards for both his writing and creations. Uncompromisingly independent, Jim is never afraid to pour scorn on those deserving or to champion whiskies previously unfashionable or unknown. Today the world is enjoying Ardbeg, Pure Irish Pot Still, Canadian and Japanese whisky such as Yoichi and Yamazaki, because Jim went out on a limb to bring them to the public's attention. He also, famously, refuses to write for publications where he believes his honesty and integrity may be compromised; for the same reason Jim has also declined offers to become a Keeper of the Quaich. He has, however, been inducted into the Bourbon Hall of Fame.