Why This Place?: The Chequamegon Bay & Beyond-Through the Eyes and Hearts of People Who Live Here (Paperback)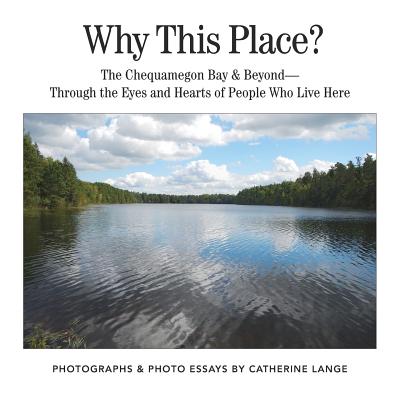 List Price: $24.99
Our Price: $24.95
(Save: $0.04 0%)
Staff Reviews
---
Lange interviewed 16 people who live and work in the Chequamegon Bay area. She photographed each person in his or her favorite place in nature as well as at home and at work. She took a landscape photo in each location and created photo essays incorporating the stories each person shared.
— From
Author's presentation: Catherine Lange
Description
---
In this 80-page, full-color book of photographs and photo essays, Catherine Lange explores the natural beauty and strong community in the Chequamegon Bay area in northwestern Wisconsin. Lange interviewed 16 people about why they live and work in the Chequamegon Bay area and created a photographic environmental portrait of each person in his or her favorite place in nature. She also created a landscape photo, forming her own bond to each location. Her photo essays incorporate additional photographs that show aspects of each person's home and work life as well as stories that each person shared.
Lange writes, "I climbed an 80-foot-high silo, overcame my fear of the water by boating to Manitou Island and to Bark Bay, and experienced the transformation--the magic--that happens when a person shares a moment, a story, a place special to them, and perhaps begins, or deepens, a friendship with you." The project, which resulted in an exhibit at the Washburn Cultural Center in Washburn, Wisc., in November 2014, was supported in part by a grant from the Chequamegon Bay Arts Council and the Wisconsin Arts Board with funds from the State of Wisconsin.
Subjects range from an eight-year-old, home-schooled boy to an 83-year-old dairy farmer; from newly arrived residents and people whose families have lived in the area since the early 1900s to individuals whose ancestral roots as First People extend hundreds of years. Their livelihoods include education, art, insurance, sea kayaking adventure tours, tribal leadership, social work, massage therapy, farming, realty, music, biology, and more.
The photographs show striking images from Sioux Beach, Roman's Point, Washburn's beach at the coal dock, Frog Bay Tribal National Park, Blue Vista Farm, Siskiwit Falls, Big Bay State Park, Corrigan's Lookout, Manitou Island, Tetzner's Dairy Farm, Moquah Barrens, Kakagon Sloughs, Raspberry River, Cornucopia Beach, Long Lake, and Red Cliff Reservation's shore.