Wheel Fever: How Wisconsin Became a Great Bicycling State (Paperback)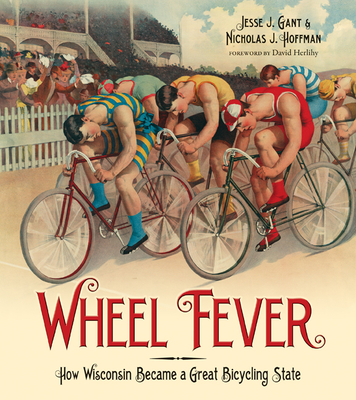 $24.95

Available for special order
Description
---
On rails-to-trails bike paths, city streets, and winding country roads, the bicycle seems ubiquitous in the Badger State. Yet there's a complex and fascinating history behind the popularity of biking in Wisconsin—one that until now has never been told. Meticulously researched through periodicals and newspapers, Wheel Fever traces the story of Wisconsin's first "bicycling boom," from the velocipede craze of 1869 through the "wheel fever" of the 1890s. It was during this crucial period that the sport Wisconsinites know and adore first took shape. From the start it has been defined by a rich and often impassioned debate over who should be allowed to ride, where they could ride, and even what they could wear. 
 Many early riders embraced the bicycle as a solution to the age-old problem of how to get from here to there in the quickest and easiest way possible. Yet for every supporter of the "poor man's horse," there were others who wanted to keep the rights and privileges of riding to an elite set. Women, the working class, and people of color were often left behind as middle- and upper-class white men benefitted from the "masculine" sport and all-male clubs and racing events began to shape the scene. Even as bikes became more affordable and accessible, a culture defined by inequality helped create bicycling in its own image, and these limitations continue to haunt the sport today.
Wheel Fever is about the origins of bicycling in Wisconsin and why those origins still matter, but it is also about our continuing fascination with all things bicycle. From "boneshakers" to high-wheels, standard models to racing bikes, tandems to tricycles, the book is lushly illustrated with never-before-seen images of early cycling, and the people who rode them: bloomer girls, bicycle jockeys, young urbanites, and unionized workers.
Laying the foundations for a much-beloved recreation, Wheel Fever challenges us to imagine anew the democratic possibilities that animated cycling's early debates.

About the Author
---
Jesse J. Gant is a PhD candidate in history at the University of Wisconsin–Madison, with research interests in nineteenth-century United States history. A native of Janesville, Wisconsin, he has written for the History News Network, the Indiana Magazine of History, and the Wisconsin Magazine of History. Jesse is a committed cyclist who divides his time between Madison and Saint Louis, Missouri.
 
Nicholas J. Hoffman is curator at the History Museum at the Castle in Appleton, Wisconsin and has written articles for the Wisconsin Magazine of History. Born in Hillsboro, his lifelong interest in Midwest history led to a master's in history from the University of Wisconsin-Milwaukee. An avid cyclist, he enjoys exploring the state's landscape on two wheels.
Praise For…
---
"The narrative . . . explores broad themes that would greatly influence the development of the nation as a whole, such as the birth, growth, and operation of an important industry, the rise of—and resistance to—women and black cyclists, the campaign for better roads, and the establishment of a popular spectator sport." (from the foreword by David Herlihy)


"The book is a comprehensive account of Wisconsin's journey from the early days of the shaky velocipede, through the bicycle's involvement in the labor movement and women's liberation, and into today's thriving bike culture. There are entertaining excerpts from 19th-century newspaper articles, such as a Milwaukee Sentinel guide from 1869 that warns, "Never allow your bicycle to get on top of you; it learns its bad tricks, besides being bad for the projecting angles of your anatomy." There are also fascinating photos of variations such as the high-wheel and the adult tricycle."  (Julia Burke, The Isthmus, October 10, 2013)


"Wheel Fever is a valuable contribution to the ongoing bicycle movement. Americans are rediscovering the value of the bicycle for recreation, for health, for its environmental benefits, and for basic transportation. Understanding more about how this movement began and evolved will help us plan our state's biking future." (Dave Cieslewicz, executive director of Wisconsin Bicycle Federation, former mayor of Madison, Wis.)