Monster Fire at Minong: Wisconsin's Five Mile Tower Fire of 1977 (Paperback)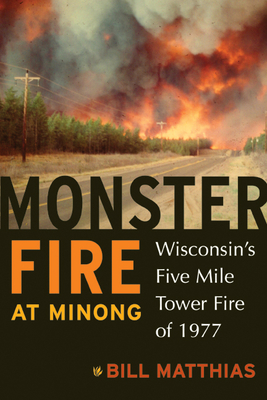 $14.95
Available for special order
Description
---
Ignited by a single match on April 30, 1977, the Five Mile Tower Fire raged out of control for 17 hours. It would be one of the largest wildland fires in Wisconsin history, ultimately destroying more than 13,000 acres of land and 63 buildings. As a column of black pine smoke reached high in the sky, citizens from Minong, Chicog, Webster, Gordon, Wascott, Hayward, Spooner, Solon Springs, and other communities began showing up to help. The grassy field designated as fire headquarters quickly became a hub of activity, jammed with trucks, school buses, dozers on trailers, dump trucks, tanker trucks, fuel trucks, and hundreds of people waiting to sign in. More than 900 came in the first four hours, clogging the road with traffic in both directions. Headquarters personnel worked valiantly to coordinate citizens and DNR workers in a buildup of people and equipment unprecedented in the history of Wisconsin firefighting.
Based on his own experiences during the long battle, plus dozens of interviews and other eyewitness accounts, Bill Matthias presents an in-depth look at the Five Mile Tower Fire, the brave citizens who helped fight it, and the important changes made to firefighting laws and procedures in its aftermath.
About the Author
---
Bill Matthias was born in Columbus, Wisconsin, and grew up in Madison. He began his studies at the University of Wisconsin Madison as a preforestry major and rekindled his interest in the pine, oak, and lake regions of northwest Wisconsin when he became the superintendent of Northwood School District in Minong in 1975. While superintendent, Matthias launched the teenage firefighting crews at Northwood High School and battled the Five Mile Tower Fire of 1977 for50 hours. He and his wife, Karen, spend their winters in Florida and each spring return to the Wisconsin Northwoods, where Matthias is a charter member of the Wascott Volunteer Fire Department."
Praise For…
---
"Bill Matthias shows how a courageous band of volunteers stood up to one of the most powerful forces of nature to save people's homes and lives. Monster Fire tells the incredible story of a modern conflagration that opened an era of fires in the Great North Woods. Anyone with a cabin on a lake will want to hear its cautionary tale." (Rocky Barker, author of Scorched Earth: How the Fires of Yellowstone Changed America)
"In Monster Fire at Minong, Bill Matthias has captured not only the destructive fury of the fire itself, but the anxious urgency and high stakes that face the folks responsible for taming the beast. It is the intriguing human side of fire suppression that people may be less familiar with, and Bill sheds light on the acute stress associated with that effort. It makes for a fascinating read." (Blair Anderson, Chief, Forest Fire Management, Wisconsin Division of Forestry)
"The fire seemed to have a life of its own, and I recall wondering how a bunch of puny humans could possibly deal with such a monster. Bill Matthias has captured that feeling of awe and dread in his wonderful account of a historic time in northwestern Wisconsin history. . . . If you were there, it is like reliving the moment, and if you were not there, this is a story that will capture you and not let you go until you've finished the final sentence." (Bill Thornley, editor, Spooner Advocate, and teenage firefighter on the Five Mile Tower Fire)
"Matthias evokes the searing heat and the ravenous fury of flames as hundreds of men and machines were mobilized in a feverish fight to save homes and lives. Within the drama of human sacrifice needed to tame the fiery beast, he has chronicled the techniques of modern-day forest firefighting, many of which evolved from lessons learned in that monster fire. All that is missing is the smell of smoke." (Earl Thayer, retired, Board of Directors, Wisconsin Lakes Association)
"A well-balanced account of a past event and its impact upon the present." (James R. Miller, retired, Wisconsin DNR Fire Control)