Strength-Based Clinical Supervision: A Positive Psychology Approach to Clinical Training (Paperback)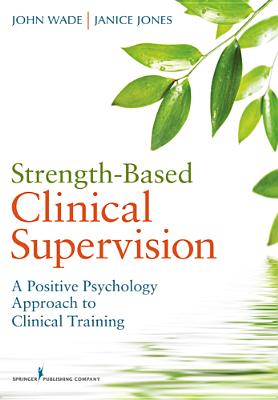 Description
---
Through the frame of positive psychology, Wade and Jones solidify a next step in conceptualization and practice of supervision. This expansive view of historical, narrative, literary, and theoretical approaches is a significant addition to the supervision literature.
Carol Falender, PhD, University of California, Los Angeles

For many of us in mental health fields our training in supervision occurred on the job. We mirrored the examples of positive supervision we experienced or tried to avoid the pitfalls we associated with negative supervision experiences. But being a competent and proficient supervisor is far more than emulation or avoidance of past experience. It is a vital aspect of our jobs and requires a pedagogical approach steeped in best practices and evidence. Strength Based Clinical Supervision offers a comprehensive approach to providing sound clinical supervision and should be part of any training program for clinicians who will one day supervise, mentor, or instruct anyone entering the field of mental health services.
Carrie Fleider, MSW, LISW-S, Assistant Director for Training, Counseling and Consultation Services, The Ohio State University
As evidenced by the recent proliferation of books about positive psychology, there is a growing realization about the importance of focusing on an individual's strengths. Yet there has been little written about positive psychology that applies this approach to training and supervision. To fill this void, Strengths-Based Clinical Supervision combines the principles of positive psychology with research on effective supervision and training from various disciplines along with the characteristics of effective clinical supervisors.
Designed for use with courses on clinical supervision in psychology, counseling, social work, the book is also an ideal resource for supervisors of Master's and Doctoral-level trainees as well as licensed professionals. It emphasizes practical applications and provides examples of questions and prompts to be used in supervision sessions. Chapters feature practical applications of key concepts as well as discussion questions to encourage retention of the material.
Key Features:
Integrates the basic principles of positive psychology with those of effective supervision and training
Emphasizes practical applications of positive psychology to clinical supervision across multiple disciplines
Includes examples of questions and prompts to be used in actual supervision sessions