The Sunshine When She's Gone (Hardcover)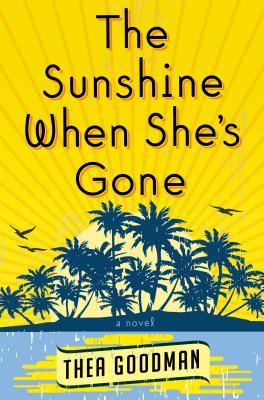 Staff Reviews
---
Marriage and parenthood are two parts of life that most of us begin with little or no training and experience. Thea Goodman opens her novel, The Sunshine When She's Gone by hitting us head on with a couple juggling the joys and pains of marriage and parenthood.

John and Veronica are the proud parents of Clara. John wakes up on a Saturday and decides it's a good time to let Veronica sleep in. He gathers up Clara and a few baby necessities and trots off in search of coffee and breakfast. Oh – and he does take some money from their cash stash. Clara's delivery had been a tough one and the first few months of Clara's life were exhausting. Veronica needs the chance to sleep in and have time for herself. John can do this for her.

Veronica has taken charge of every aspect of Clara's life from car seats and cribs to special formula. Now, that may not seem unusual; however, the control has spilled over to every aspect of their marriage and, frankly, it is a bit chafing and confining. John is giving Veronica the opportunity let loose a bit and, well, he's letting loose too. He's giving himself the chance to spend time with Clara without Veronica's watchful eye.

Now, John's intentions are good, heartfelt, really, but when he finds the corner coffee shop closed, he makes the decision to grab a cab and…go to the airport! What follows is a weekend where nothing happens as we expect (I think the characters are caught off guard as well) and life twists John and Veronica into making choices neither of them would make under normal circumstances.

What would you do in their situation? What has sleep deprivation done to you? How does exhaustion affect our lives? Find out how John and Veronica cope. Take a trip with John and Veronica and discover what happens before and after. - Wendy, Redbery Books, Cable, Wisconsin
— From
Wendy's Easy Chair 3
Description
---
A fresh, funny, and wisely observed debut novel about marriage-about the love, longing and ambivalence exposed when a husband takes the baby on a highly unusual outing
When Veronica Reed wakes up one frigid January morning, two things are "off"-first of all, she has had a good night's sleep, which hasn't happened in months, and second, both her husband and her baby are gone. Grateful for the much-needed rest, Veronica doesn't, at first, seriously question her husband's trip out to breakfast with baby Clara. Little does she know, her spouse has fled lower Manhattan, with Clara, for some R&R in the Caribbean.
Told through alternating points of view, "The Sunshine When She's Gone" explores the life-changing impact of parenthood on a couple as individuals and as partners. Thea Goodman brings us into intimacies made tense by sleep-deprivation and to losses and gains made more real by acknowledging them. Here is the story of a couple pushed to the edge and a desperate father's attempt give them both space to breathe.
About the Author
---
Thea Goodman has received the Columbia Fiction Award, a Pushcart Prize Special Mention and fellowships at Yaddo and Ragdale; her short stories have appeared in several journals, notably "New England Review," "Other Voices" and "Columbia." Born in New York City, she studied at Sarah Lawrence and earned her MFA from Brooklyn College, CUNY. She has taught writing at The School of The Art Institute of Chicago, and lives in Chicago with her husband and children.
Praise For…
---
"Goodman's spot-on descriptions… will be acutely recognizable to readers with children." – New York Times Book Review

"Goodman brings compassion and humor to the domestic struggles of new parents trying to come to terms with the changes to themselves, their spouses and their marriage 'after baby.'"-- BookPage

"The Sunshine When She's Gone is a fresh breath of fiction with rich characters and an engrossing plot, in which Goodman makes the drudgery of new parenting seem utterly exciting. . . . a fast-paced, riveting story out of the pitfalls of new parenthood." – Shelf Awareness (starred)

"Manhattanites, lovers, parents, readers: This gorgeously human novel is not to be missed."-- Redbook Magazine
"On the one hand ... a comedy of manners. . . .On the other hand . . . a darker, raw look at what happens to a person's identity when nobody's looking." – oprah.com, a Book of the Week selection
"A page-turning portrait of a couple in crisis."—Vogue.com

". . . This book is so good. . . Goodman's language has an understated poetry to it, particularly in illustrating the relentlessness of raising a baby. . .  She is at her best in describing the selfish, often bewildering feelings of new parents handicapped by sleep deprivation, when the constant buzzing irritation of wakefulness twists and magnifies a spouse's shortcomings into fatal character flaws." – Chicago Magazine

"Sprightly . . . Like every comedy of errors, this novel makes us wince, then grin with relief."—More Magazine

"Thea Goodman shines in The Sunshine When She's Gone."—Vanity Fair

"A deft account of love and its sacrifices."—Marie Claire
"[An] exhausted-new-parent fantasy. . . Readers…laughed a lot."—Elle "Readers' Prize" Pick, March 2013

"First-time novelist Goodman is a master of sustained, 'are-you-KIDDING-me?' tension as John and Veronica compete for the title of Worst Parents Ever. New parents should find validation that their own sleep-deprived insanity is normal and will pass." -- Library Journal
"A sobering tale of two people discovering what it means to be a parent."—Publishers Weekly

"Sharp, intuitive, and empathetic. . . Goodman offers a wickedly incisive take on the pressures of parenthood and the resiliency of marital trust."—Booklist

"Snug and elegant. . . Thea Goodman, a prodigiously talented first-time novelist, distills the keen drama of first-time parenting. . . . The intimacy with which Goodman treats her characters leaves us likewise lucky voyeurs."—Town and Country

"I'm writing this blurb on very little sleep, because I stayed up far too late finishing The Sunshine When She's Gone. Thea Goodman's novel could deprive you of sleep too. It's suspenseful, funny, realistic, melancholy. She has captured the secret thoughts of new parents so flawlessly, I wonder if she's installed a listening device into my brain." --A.J. Jacobs, New York Times bestselling author of The Year of Living Biblically and Drop Dead Healthy

"Thea Goodman has made something I would've thought impossible: an edge-of-your-seat narrative about parenting a small child. Her emotional investment in her characters is complete as they confront each other, themselves, and the heavy weight of new love." --Nell Freudenberger, author of The Newlyweds "Thea Goodman's astute debut novel poses the question, What if you were to step out of your imbedded life? And her discerning mind answers it with a tale of Manhattanites more inextricably bound together than they might imagine." --Susan Minot, author of Evening
 "From its first alarming domestic scene to its far-from-inevitable, unbearably true conclusion, The Sunshine When She's Gone is a faultless portrait of a marriage in crisis and the precarious paths we all must take to keep our lives in balance. Ever been in love? This book will shake you, jolt you, jar you, and wake you up to life."  --Patrick Somerville, author of The Cradle and This Bright River