Her: A Memoir (Hardcover)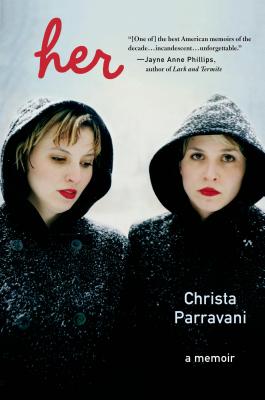 Staff Reviews
---
Christa Parravani's memoir of her twin sister's life is a challenging read. Cara, Christa's sister did not have an easy life. Clearly, the best part of her life was having Christa as her sister and twin. Those of us who have (or regrettably, some of us, had) sisters, know what it's like to have this bond. I can't even imagine the closeness of twins, but, to have a sister is to have someone close to tell everything to: a sounding board, a confidant, someone who knows all your history – well, there's nothing better.

Cara and Christa are as close as twins can be – even down to fooling people by flipping identities. As children, they suffer a broken home, but maintain their closeness – in fact – use it to get through that tumultuous time. As adults, they marry men who are probably not the best choices. They attempt to make a go of marriage; however, when Cara is raped, she begins to spiral into the worst place imaginable.

Christa is there to try to help Cara. Cara becomes addicted to heroin – even becomes an expert at finding prescription drugs without a prescription. Christa has continued with her life, but is always close by to Cara. Unfortunately, there is not much to be done and Cara's life is spoiled beyond repair.

In the last several years, I've broadened my reading horizons and now read most every genre. The memoir has become a favorite of mine. But I find I must be careful. There are cathartic reasons people write memoirs and not everyone who writes a memoir is a writer. Parravani's writing is most times disjointed and I was never certain if this was a lack of expertise or a method to show how incoherent life was during Cara's fall. I admit, I'm a fan of linear writing for memoirs; and this was definitely not linear. There is not much joy in this book, but Parravani does show us the joy, power and magnificence of having a sister. She also illustrates that she was able to find happiness after her sister's death. - Wendy, Redbery Books, Cable, Wisconsin
— From
Wendy's Easy Chair 3
Description
---
Wall Street Journal, "Favorite Books of the Year 2013"
Cosmopolitan, "Best Books of the Year for Women"
Library Journal, "Best Books of 2013"
Salon, "Best Books of 2013"
"Haunting... more than a beautifully written memoir. [A] powerful and raw love letter."—The Washington Post
A blazingly passionate memoir of identity and love: when a charismatic and troubled young woman dies tragically, her identical twin must struggle to survive
Christa Parravani and her identical twin, Cara, were linked by a bond that went beyond siblinghood, beyond sisterhood, beyond friendship. Raised up from poverty by a determined single mother, the gifted and beautiful twins were able to create a private haven of splendor and merriment between themselves and then earn their way to a prestigious college and to careers as artists (a photographer and a writer, respectively) and to young marriages. But, haunted by childhood experiences with father figures and further damaged by being raped as a young adult, Cara veered off the path to robust work and life and in to depression, drugs and a shocking early death.
A few years after Cara was gone, Christa read that when an identical twin dies, regardless of the cause, 50 percent of the time the surviving twin dies within two years; and this shocking statistic rang true to her. "Flip a coin," she thought," those were my chances of survival." First, Christa fought to stop her sister's downward spiral; suddenly, she was struggling to keep herself alive.
Beautifully written, mesmerizingly rich and true, Christa Parravani's account of being left, one half of a whole, and of her desperate, ultimately triumphant struggle for survival is informative, heart-wrenching and unforgettably beautiful.
About the Author
---
Christa Parravani is a writer and photographer. She is the author of Her: A Memoir. Her photographs have been exhibited internationally, and are represented by the Michael Foley Gallery in New York City and the Kopeikin gallery in Los Angeles. She has taught photography at Dartmouth College, Columbia University and UMass, Amherst. She earned her MFA in Visual Art from Columbia University and her MFA in Creative Writing from Rutgers. She lives in Brooklyn with her husband, the writer Anthony Swofford (Jarhead) and their daughter.
Praise For…
---
"Favorite Books of the Year 2013" —Wall Street Journal
"Best Books of the Year for Women" —Cosmopolitan
"Best Books of 2013" —Library Journal
"Best Books of 2013" —Salon
"Haunting . . . more than a beautifully written memoir. [A] powerful and raw love letter." —The Washington Post
"Her instantly became my reading obsession. . . . Parravani tackles her potentially melodramatic material with forthrightness and a flair for the darkly comic, while also remaining witchily true to the romantic uncanniness of twinhood. The tone she strikes is brashly ghoulish and heart twanging, the route through her past artfully circuitous. Her invites obsessional reader behavior because Parravani has the ability to make life, even at its worst, feel magic-tinged and vital and lived all the way down to the bone. She spins out of her dire experiences an enthralling story laced with weird luck and coincidences. . . . The final sentence, honest to god, made me cry." —Heidi Julavits, Bookforum
"Parravani succeeds in 'writing Cara back to life' and saving her own life in the process. No punches are pulled here, and Parravani's matter-of-fact tone does nothing to shield readers from the enormity of her loss . . . . Imagine looking in a mirror and not seeing yourself. Imagine living the rest of your life with half of yourself missing. Imagine looking at your own corpse. You don't have to imagine: Parravani's story makes it all clear." —Library Journal (Starred)
"Concise and captivating, Parravani's prose paints her phoenix-like transformation such that the reader feels the flames of her fire. A poignant, book-arcing metaphor illustrates Christa's battle to accept herself with a mirror-image. Raw and unstoppable, Her illuminates the triumph of the human spirit – both individual and shared." —Booklist (Starred)
"Christa Parravani powerfully transforms her anguish over the traumatic death of her troubled identical sister into the astonishing Her." —Vanity Fair
"A photographer and identical twin tells the intimately delineated, raw story of her beloved sister. . . a finely wrought achievement of grace, emotional honesty, and self-possession" —Publishers Weekly
"Christa Parravani's new memoir, Her, is a glimpse into the most intimate chambers of the identical twin relationship. . . Her is a tribute to the truly beloved, as well as a celebration of the push-and-pull between sisters." —The Oregonian
"Moving… just the right balance of joyous, melancholic and bitter. [We sometimes read memoir hoping] for a small glimpse into the inside of someone else's reality in all its messy glory. With humility and an unbreakable love and respect for her other half, Christa Parravani allows us that in droves." —20somethingreads.com
"Full of headlong energy, Christa Parravani's HER is reckless yet delicate, familiar yet otherworldly, precise yet with the soul of a fairytale, and deeply moving in surprising ways." —Nick Flynn, author of Another Bullshit Night in Suck City and The Ticking is the Bomb
"The best memoirs should come with a warning label, the kind that makes you take a deep breath before you open the cover. Her announces its challenges immediately while also establishing the voice that will pull you through the darkness of loss, memory and expiation. Suddenly bereft, twinless, distrusting the talent that has been her mainstay and questioning what it means to be a survivor, Christa Parravani carries us with her into the excavation of what it means to keep living, a lost twin and a woman digging herself out of her sister's loss. That she comes out the other side is never predictable--merely miraculous." —Dorothy Allison, author of Bastard Out of Carolina
"Out of a maelstrom of love, loss, and grief comes this beautiful clear-eyed memoir, one that reveals the power and peril of twinhood even as it explores ideas that affect us all: Why are we drawn to what may destroy us?  What makes us hurt the ones we love? And when we experience tragedy, how do we keep grief from eating us alive?  With a photographer's sharp eye and a gifted writer's penetrating insight, Parravani writes about being torn apart and then about piecing her life back together, brilliantly illuminating along the way what it means to be a sister, a daughter, a wife, an artist, and—ultimately, and triumphantly—herself." —Julie Orringer, author of The Invisible Bridge
"Christa Parravani's exploration of her relationship to her troubled identical twin sister is deeply thoughtful, lyrical, even magical. As she struggles for identity amid her sister's suffering, Parravani's own strength and talents emerge. There is rarely much redemption in losing the people we love, but Parravani transforms her pain into true beauty on the page." —Kerry Cohen, author of Loose Girl: A Memoir of Promiscuity
"In this powerful memoir about the death of her identical twin and its impact on her own life, Christa Parravani explores what it means to be a woman of creative spirit as few writers have. I couldn't stop looking at the photograph on the cover, wondering what it would be like to be as close to another person as these sisters were to each other. An intense reading journey, an inspiring book." —Julie Metz, author of The New York Times bestselling Perfection
"Christa Parravani's lyrical, no-nonsense Her ranks with the best American memoirs of the decade. This incandescent story of loving and losing one's twin is an uncompromising love poem to the joys and dangers of shared identity, and an unforgettable treatise on addiction, trauma, survival, and triumph." —Jayne Anne Phillips, author of Lark and Termite and Machine Dreams
"Christa Parravani writes with extraordinary emotional honesty about being a twin and losing that beloved other self, and with equally remarkable candor about being an artist and about marriage, grief and much more. I have never read a book that so directly engaged the perils and exaltations of being a female. The scenes between the sisters in this book are breathtaking. And Christa's difficulty looking in the mirror after the death of her identical twin becomes the reader's desire to see him or herself, and the world, more sensitively. A fine and rare book." —Alice Elliott Dark, author of  In the Gloaming and Think of England
"The courage it must have taken Christa Parravani to write the memoir Her took my breath away. Not only did she confront, headfirst and with clear eyes, the story of her identical twin's brutal rape and subsequent death spiral, but she had to, in essence, swallow her twin in order to summon the exquisite writer lying dormant within herself. The result is both a gripping tale of horror and redemption and a brilliant study of dichotomies, as only an identical twin adept at toggling between brain hemispheres could convey: dark versus light, Thanatos versus Eros, good versus evil, love versus hate, and every shade of gray, red, and crazy in between. I unreservedly loved this book." —Deborah Copaken Kogan, author of Shutterbabe and The Red Book