A More Perfect Constitution: Why the Constitution Must Be Revised: Ideas to Inspire a New Generation (Paperback)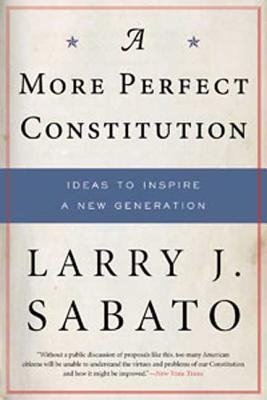 $19.00
Available in our warehouse. Ships in 2 - 3 Days
Description
---
"The reader can't help but hold out hope that maybe someday, some of these sweeping changes could actually bring the nation's government out of its intellectual quagmire...his lively, conversational tone and compelling examples make the reader a more than willing student for this updated civics lesson." --The Hill
The political book of the year, from the acclaimed founder and director of the Center for politics at the University of Virginia.
A More Perfect Constitution presents creative and dynamic proposals from one of the most visionary and fertile political minds of our time to reinvigorate our Constitution and American governance at a time when such change is urgently needed, given the growing dysfunction and unfairness of our political system .
Combining idealism and pragmatism, and with full respect for the original document, Larry Sabato's thought-provoking ideas range from the length of the president's term in office and the number and terms of Supreme Court justices to the vagaries of the antiquated Electoral College, and a compelling call for universal national service-all laced through with the history behind each proposal and the potential impact on the lives of ordinary people. Aware that such changes won't happen easily, but that the original Framers fully expected the Constitution to be regularly revised, Sabato urges us to engage in the debate and discussion his ideas will surely engender. During an election year, no book is more relevant or significant than this.
About the Author
---
Larry J. Sabato is the founder and director of the renowned Center for Politics at the University of Virginia. He has appeared on dozens of national television and radio programs, including 60 Minutes, Today, Hardball, and Nightline. He has coanchored the BBC's coverage of U.S. presidential returns and inaugurations, and has authored or edited more than a dozen books on American politics, including the highly praised A More Perfect Constitution-Why the Constitution Must Be Revised: Ideas to Inspire a New Generation. His other books include Feeding Frenzy, about press coverage of politicians; The Rise of Political Consultants; and Barack Obama and the New America. Sabato runs the acclaimed Crystal Ball website, which has the most comprehensive and accurate record of election analysis in the country. In 2001, the University of Virginia gave him its highest honor, the Thomas Jefferson Award. He lives in Charlottesville, Virginia.