Little Mercies (Paperback)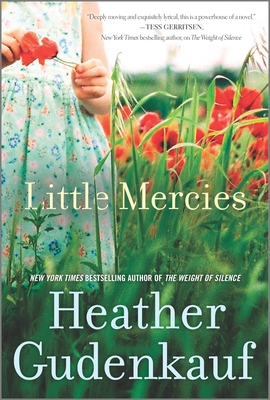 $15.95
Available in our warehouse. Ships in 2 - 3 Days
Staff Reviews
---
I would bet quite a few of us remember our mothers as the caretaker of the family. She was the person who holds it all together. Our culture today is different. Fathers take part in the caretaking. Such is the case in Heather Gudenkauf's latest novel Little Mercies.

Ellen Moore is a successful and respected social worker. It's important to remember she is respected. She and her husband Adam have a typical crazy busy life when a couple have children and both parents work. Ellen has a full schedule most days as the sort of social worker who is in the field as a children's advocate. When tragedy strikes Ellen's home, she relives every decision she's made as a children's advocate and realizes how quickly an ordinary day can turn upside down and change her family's life forever.

As we get to know Ellen, we also meet 10-year-old Jenny Briard who lives with her father. Admittedly, he tries hard, but falls just short of being what we would probably consider an acceptable parent. Okay, maybe he's a long way from being an acceptable parent, but we get the impression he loves his daughter. One day Jenny's life comes off the tracks and she, too, must come to grips with the curve life throws her. Her father isn't there to help. She is forced to take charity from unlikely sources and must survive with little but her wits and a cell phone. A chance meeting in a diner brings Jenny's and Ellen's lives together and even though neither of them wants what the other has to offer, they come together in such a way that is heart-warming.

I'm a Gudenkauf fan. I can read her books in a couple of sustained sittings. It's heaven because Gudenkauf's writing is unpretentious and gets to the meat of the matter quickly, engaging her readers from the start. I would be shocked if you don't see yourself in her novels. In Little Mercies she shows us how our past actions follow us always, how we can never dismiss the smallest detail in our day-to-day existence, and the importance of love and trust and all the little mercies.
— From
Wendy's Easy Chair 3
Description
---
In her latest ripped-from-the-headlines tour de force, New York Times bestselling author Heather Gudenkauf shows how one small mistake can have life-altering consequences... Veteran social worker Ellen Moore has seen the worst side of humanity--the vilest acts one person can commit against another. She is a fiercely dedicated children's advocate and a devoted mother and wife. But one blistering summer day, a simple moment of distraction will have repercussions that Ellen could never have imagined, threatening to shatter everything she holds dear, and trapping her between the gears of the system she works for. Meanwhile, ten-year-old Jenny Briard has been living with her well-meaning but irresponsible father since her mother left them, sleeping on friends' couches and moving in and out of cheap motels. When Jenny suddenly finds herself on her own, she is forced to survive with nothing but a few dollars and her street smarts. The last thing she wants is a social worker, but when Ellen's and Jenny's lives collide, little do they know just how much they can help one another. A powerful and emotionally charged tale about motherhood and justice, Little Mercies is a searing portrait of the tenuous grasp we have on the things we love the most, and of the ties that unexpectedly bring us together.