One Summer: America, 1927 (Paperback)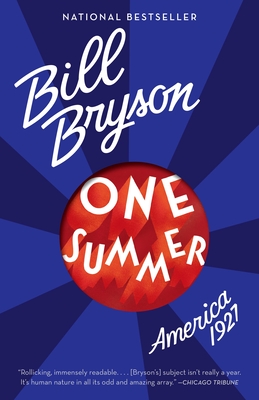 List Price: $19.00
Our Price: $17.95
(Save: $1.05 6%)
Staff Reviews
---
Men's Discussion Group selection, April 2020, Redbery Books, Cable, WI.
— From
Men's Discussion Group
Description
---
A Chicago Tribune Noteworthy Book
A GoodReads Reader's Choice

The summer of 1927 began with Charles Lindbergh crossing the Atlantic. Meanwhile, Babe Ruth was closing in on the home run record. In Newark, New Jersey, Alvin "Shipwreck" Kelly sat atop a flagpole for twelve days, and in Chicago, the gangster Al Capone was tightening his grip on bootlegging. The first true "talking picture," Al Jolson's The Jazz Singer, was filmed, forever changing the motion picture industry.
        All this and much, much more transpired in the year Americans attempted and accomplished outsized things—and when the twentieth century truly became the American century. One Summer transforms it all into narrative nonfiction of the highest order.
About the Author
---
Bill Bryson's bestselling books include A Walk in the Woods, I'm a Stranger Here Myself, In a Sunburned Country, A Short History of Nearly Everything (which earned him the 2004 Aventis Prize), The Life and Times of the Thunderbolt Kid, and At Home. He lives in England with his wife.
Praise For…
---
"Rollicking, immensely readable. . . . [Bryson's] subject isn't really a year. It's human nature in all its odd and amazing array." —Chicago Tribune

"A wonderful romp . . . . Fascinating. . . . Written in a style as effervescent as the time itself." —The New York Times Book Review

"Addictively readable." —The Wall Street Journal
 
"Entertaining. . . . Splendid. . . . Sure to delight." —Newsday
 
"Marvelous." —The Huffington Post

"Bill Bryson recounts a remarkable period in America's passage. . . . [One Summer] captures that fabulous summer—indeed, the entire era—in tone and timbre." —The Boston Globe

"A lively account of 1927's events and its cast of characters, both well known and long forgotten. . . . [Bryson] has a keen eye for amusing and arresting tidbits of information." —San Francisco Chronicle

"The best kind of general-interest book: fun, interesting, and something to learn on every page." —The Christian Science Monitor

 "Breezily written, conversational and humorous. . . . [Bryson is] a gifted raconteur." —The Guardian (London)

"Bryson is a marvelous historian, not only exhaustively accurate, but highly entertaining. If you avoid textbook histories because they seem too dry, pick up One Summer, or any other of Mr. Bryson's books. They are intelligent delights." —The Huffington Post

"An entertaining tour through a year of Jazz Age scandal and baseball heroics. . . . Bryson will set you right in this canter through one summer of one year that—once you've turned the final page—will seem more critical to American history than you might have reckoned before." —Financial Times

"One Summer covers an enormous cast of characters that are deeply researched and rendered to entertain. . . . [Bryson] finds the strange trivia and surprising little coincidences that make history fun, and his breezy style and running commentary make for an enjoyable read." —The Miami Herald

"Exuberant. . . . [Bryson] propels his story forward with enviable skill and inexhaustible verve." —The Times Literary Supplement (London)

"Per usual, Bryson writes prose as lucid as a pane of glass. . . . A fun walk through the summer of 1927, with all its zaniness." —Minneapolis Star Tribune

"Has history ever been so enjoyable? . . . Bill Bryson is a true master of popular narrative. . . . With this book, he proves once again that he is able to juggle any number of different balls . . . and create spellbinding patterns while never letting a single one drop. He is wonderfully adept at the nutshell portrait: indeed, he treats the nutshell like a ballroom, conveying a vast amount in a tiny number of words." —Daily Mail