In a Sunburned Country (Paperback)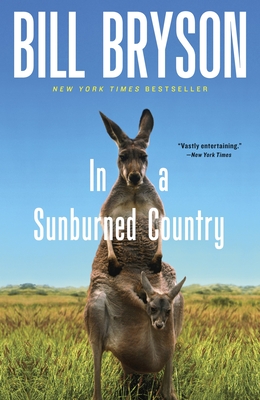 Staff Reviews
---
-- Men's Discussion Group selection, February 2017, Redbery Books, Cable, Wisconsin
— From
Men's Discussion Group
Description
---
Every time Bill Bryson walks out the door, memorable travel literature threatens to break out. This time in Australia.

His previous excursion along the Appalachian Trail resulted in the sublime national bestseller A Walk in the Woods. In A Sunburned Country is his report on what he found in an entirely different place: Australia, the country that doubles as a continent, and a place with the friendliest inhabitants, the hottest, driest weather, and the most peculiar and lethal wildlife to be found on the planet. The result is a deliciously funny, fact-filled, and adventurous performance by a writer who combines humor, wonder, and unflagging curiousity.

Despite the fact that Australia harbors more things that can kill you in extremely nasty ways than anywhere else, including sharks, crocodiles, snakes, even riptides and deserts, Bill Bryson adores the place, and he takes his readers on a rollicking ride far beyond that beaten tourist path. Wherever he goes he finds Australians who are cheerful, extroverted, and unfailingly obliging, and these beaming products of land with clean, safe cities, cold beer, and constant sunshine fill the pages of this wonderful book.

Australia is an immense and fortunate land, and it has found in Bill Bryson its perfect guide.
About the Author
---
BILL BRYSON'S many books include, most recently, I'm a Stranger Here Myself, as well as A Walk in the Woods, Lost Continent, Notes from a Small Island, and Mother Tongue. Born in Des Moines, Iowa, in 1951, he lived in England for almost two decades. He now lives in Hanover, New Hampshire, with his wife and their four children.
Praise For…
---
"What the indefatigable, keenly observant Bryson did a few years back for the Applachian Trail with A Walk in the Woods... he does now for the generally undiscovered land Down Under."
—Chicago Tribune

"Vastly entertaining... If there is one book with which to get oriented before departure or en route to Australia, this is it."
—New York Times