The Beer Bible (Hardcover)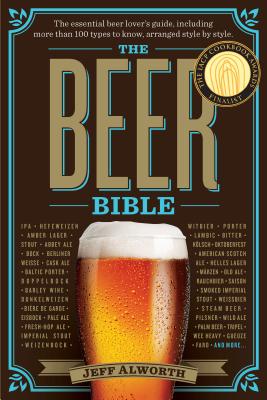 Description
---
Winner of a 2016 IACP Award

The ultimate reader- and drinker-friendly guide to the world's ales and beers, and the book that approaches the subject in the same way beer lovers do—by style, just like a welcoming pub menu.

Divided into four major families—ales, lagers, wheat beers, and sour and wild ales—The Beer Bible covers everything a beer drinker wants to know about the hundreds of types of beers made, from bitters, sessions, and IPAs to weisses, wits, lambics, and more. Each style is a chapter unto itself, delving into origins, ingredients, description and characteristics, sub-styles, and tasting notes, and ending with a recommended list of the beers to know in each category. Infographic charts throughout make understanding the connection between styles and families immediately understandable.

The book is written for passionate beginners, who will love its "if you like X, try Y" feature; for intermediate beer lovers eager to go deeper; and for true geeks, who will find new information on every page.

 
About the Author
---
Jeff Alworth has been writing about beer and brewing for twenty years. He is the author of The Beer Bible (Workman, 2015), Cider Made Simple (Chronicle, 2015), and The Beer Tasting Toolkit (Chronicle, 2012). He is a columnist for All About Beer and has written for a number of magazines and newspapers, and he blogs about beer at his popular site, Beervana. He lives and brews in Portland, Oregon.

 
Praise For…
---
"… a box of treats… It's a delight to find a book about beer that covers the subject in such breadth and depth at the same time as making it seem fresh and new again" – Pete Brown, All About Beer

"A must-read." – Craft Beer & Brewing

"Jeff Alworth has an impressive track record as a leading exponent of the global craft beer movement… this tome will educate and leave you thirsty for a cold one"  – Book Page

"a tome worthy of its name" – Food+Wine.com

"Beer enthusiasts will welcome this guide that feels like one is spending time with a well-versed drinking pal" – Library Journal

"The Beer Bible endows beer lovers with the same incredible depth and scope of information that Karen MacNeil's The Wine Bible gave to enophiles" – Tasting Panel Magazine