The Good Life (Paperback)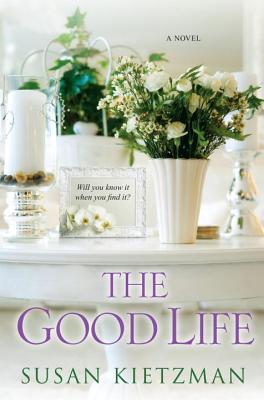 $19.00
Available in our warehouse. Ships in 2 - 3 Days
Staff Reviews
---
What gauge do you use to measure your life? What constitutes a good life is obviously different for all of us. For some it's a luxurious home, for others, having a steady job makes for a good life. For still others a good life means adequate food every day, a decent home, health or someone to love.
For Ann Barons, the good life appears to be money, status and the perfect body weight/size. She flaunts it all to everyone, even her family. Her family have gotten used to her obsessions with having the best clothes, the biggest house and the least amount of body fat. When her mother, Eileen, calls to ask Ann for help because Ann's father, Sam, is ill, well, Ann just rolls up her sleeves, tells Eileen to come ahead and then proceeds to redecorate the guest house. She launches into organized control. Control, it's all about control.
As Ann prepares for the parents' arrival, we learn there is much behind why Ann and her family (husband Mike, children Nate and Lauren) only see Ann's parents at Christmas. Ann resents absolutely everything about her childhood and we discover why she has molded her adult life as she has. Eileen is grateful for the assistance Ann has provided, but has no understanding as to why Ann refuses to accept Eileen's offerings of delectable food, conversation and gentle advice. Eileen does her best to be unobtrusive as she attempts to know her adult daughter better and enjoy her grandchildren while she is the caregiver for her ill husband.
Kietzman has hit the mark with The Good Life. Her writing is crisp, tight and full of almost perfect dialog between three generations of characters. Those readers with elderly or ill parents or family members will embrace this remarkable story of understanding, forgiveness and the willingness to give each other room to breathe. How do you measure the good life? - Wendy, Redbery Books, Cable, Wisconsin
— From
Wendy's Easy Chair 3
Description
---
Between workouts, charity events, and shopping, Ann Barons keeps her days as full as her walk-in closets. She shares an immaculate house with her CEO husband, Mike, and their two teenagers, Nate and Lauren. It's a luxurious life, far from her homespun childhood on a farm in eastern Pennsylvania...which is why Ann is wary when her elderly parents ask to move in temporarily. Ann prepares in the way she knows best-hiring decorators and employing a full-time nurse for her dementia-stricken father. But nothing can prepare her for the transformations ahead. Soon, her mother Eileen is popping in to prepare soups and roasts in Ann's underused kitchen, while the usually surly Nate forms an alliance with his ailing grandfather. Lauren blossoms under Eileen's guidance, and even workaholic Mike finds time to attend high-school football games. But it's Ann who must make the biggest leap, and confront the choices and values that have kept her floating on life's surface for so long. Timely, poignant, and wise, The Good Life is a deeply satisfying and beautifully written story about the complex relationships between parents and children-and the gap that often lies between what we seek, and what will truly make us whole. "The moving story of a family's rebirth through the simple but profound acts of daily kindness and sacrifice." -Holly Chamberlin, author of Last Summer

About the Author
---
Susan Kietzman writes contemporary American fiction. Her protagonists face every day challenges and issues, and make decisions that affect the direction and quality of their lives. Before dedicating all her writing time to fiction, she wrote in several other capacities - as newspaper reporter, corporate client wordsmith, and museum fundraiser. She also taught English and public speaking at two community colleges. It Started in June is her fifth novel. Her previous novels are Every Other Wednesday, The Summer Cottage, A Changing Marriage, and The Good Life. Please visit her online at www.SusanKietzman.com.