The Physics Book (DK Big Ideas) (Paperback)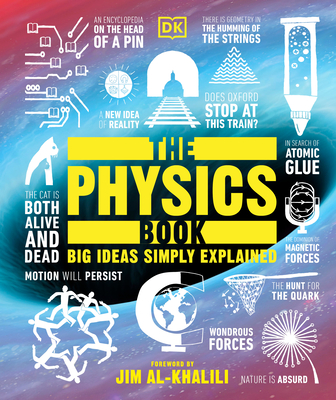 $19.99

Available in our warehouse. Ships in 2 - 3 Days
Description
---
How do magnets generate electricity? What is antimatter? Is time travel possible? 

Discover the answers to these and over 90 other big questions that explore the most important laws, theories, and breakthrough moments in our understanding of physics – from the earliest civilizations to the 21st century. 

The Physics Book comprises concise information and step-by-step diagrams that untangle knotty theories, memorable quotes, and witty illustrations that play with our understanding of physics. 
This diverse and inclusive account of physics includes Pythagoras's observations on music, Galileo's experiments with spheres, and Isaac Newton's theories of gravity and the laws of motion, unlocking Albert Einstein's insights into relativity, how the accidental discovery of cosmic microwave background radiation confirmed the Big Bang theory and the reasons most of the Universe is "missing". 

This captivating book will broaden your understanding of physics, offering:

- A foreword by renowned British scientist Professor Jim Al-Khalil.
- Profiles of over 80 ideas and events that shaped our understanding of physics and its significance to everyday life.
- Thought-provoking images and flow-charts that demystify the central concepts behind each idea.
- Insightful quotes from leading physicists, such as Archimedes, Galileo and Einstein.
- A directory section for easy localization.

Your Physics Questions, Simply Explained.

The Physics Book uses an innovative visual approach to make the subject accessible to everyone, whether you're an avid student or just curious about maths. If you've ever wondered exactly how physicists formulated – and proved – these abstract concepts, this is the perfect book for you. 

The Big Ideas Series

With millions of copies sold worldwide, The Physics Book is part of the award-winning Big Ideas series from DK. The series uses striking images along with engaging writing, making big topics easy to understand.
About the Author
---
Foreword writer: Professor Jim Al-Khalili, OBE FRS, is a physicist, author and broadcaster based at the University of Surrey. He received his PhD in theoretical nuclear physics in 1989 and has published over a hundred research papers on quantum physics. His many popular science books have been translated into twenty-six languages. He is a recipient of the Royal Michael Faraday medal and the Institute of Physics Kelvin Medal. In 2016 he received the inaugural Stephen Hawking Medal for Science Communication. He lives in Southsea, Hampshire, with his wife Julie.
Praise For…
---
"Readers who want to know more about physics but are intimidated by the subject's complexity will want to turn to The Physics Book" —Booklist