El libro de la física (The Physics Book) (DK Big Ideas) (Hardcover)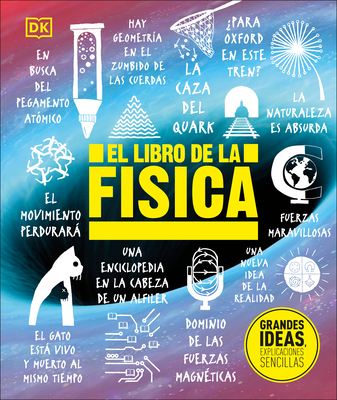 $27.99

Available in our warehouse. Ships in 2 - 3 Days
Description
---
Grandes ideas, explicaciones sencillas

Con una prosa sencilla, El libro de la física presenta explicaciones claras y concisas que desbrozan la jerga especializada, diagramas que plasman complejas teorías, citas memorables e ingeniosas ilustraciones que juegan con nuestros conocimientos de la física.


¿Cómo generan electricidad los imanes? ¿Qué es la antimateria? ¿Es posible viajar en el tiempo? A partir de estas y otras muchas preguntas, los físicos han ampliado las fronteras del conocimiento humano y nos han ayudado a comprender las leyes físicas que rigen nuestro mundo y el universo.

Tanto el estudiante deseoso de aprender cómo el simple lector curioso acerca del funcionamiento del mundo encontrarán en este libro en español de física muchas ideas estimulantes.

La física explicada de forma sencilla

Adéntrate en una emocionante travesía por la historia de la física y  sus descubrimientos más relevantes. Mediante explicaciones claras y concisas este libro de física contesta a las preguntas más profundas acerca del funcionamiento del mundo que nos rodea.

Recopilatorio de grandes momentos de la física a lo largo de los años donde destacan diagramas que plasman complejas teorías, citas memorables de los científicos más grandes de la historia, termodinámica, teoría de cuerdas, física cuántica, y mucho más.

Este libro en español para niños, jóvenes y adultos te adentra en el apasionante mundo de la física con explicaciones realmente sencillas a lo largo de los siguientes capítulos:

   • Medida y movimiento. La física y el mundo cotidiano.
   • Energía y materia. Materiales y calor.
   • Electricidad y magnetismo. Dos fuerzas se unen.
   • Sonido y luz. Las propiedades de las ondas.
   • El mundo cuántico. Nuestro incierto universo.
   • Física nuclear y de partículas. Dentro del átomo.
   • La relatividad y el universo. Nuestro lugar en el cosmos. 

El libro de la física pertenece a la galardonada serie Grandes Ideas explica temas complejos de un modo fácil de entender mediante explicaciones claras y alejándose del academicismo tradicional. Su creativo diseño y los gráficos innovadores que acompañan al texto hacen de esta serie una introducción perfecta a una gran diversidad de materias para toda la familia.
About the Author
---
Foreword writer: Professor Jim Al-Khalili, OBE FRS, is a physicist, author and broadcaster based at the University of Surrey. He received his PhD in theoretical nuclear physics in 1989 and has published over a hundred research papers on quantum physics. His many popular science books have been translated into twenty-six languages. He is a recipient of the Royal Michael Faraday medal and the Institute of Physics Kelvin Medal. In 2016 he received the inaugural Stephen Hawking Medal for Science Communication. He lives in Southsea, Hampshire, with his wife Julie.