Ultimate Skiing (Paperback)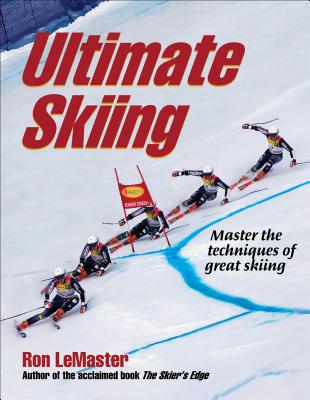 $27.95

Available in our warehouse. Ships in 2 - 3 Days
Description
---
Break through to the next level of ski performance! Renowned instructor, coach, and ski technique expert Ron LeMaster takes you beyond The Skier's Edge by improving, expanding, and enhancing that seminal work. The result, Ultimate Skiing, will help you master the mechanics of great skiing as never before—explaining how it's done, showing how it looks, and describing how it feels.
LeMaster has made Ultimate Skiing a comprehensive manual on ski technique. Learn how skis interact with the snow and how best to manipulate your skis, boots, and poles on the steepest slopes, in monster mogul fields, and through the deepest powder. Technique tips and kinesthetic cues help translate the sensation of each movement.
Throughout, LeMaster incorporates his one-of-a-kind, full-color photo montages and 3-D diagrams to take you onto the slopes and into the action. These phenomenal images capture some of the world's greatest skiers while illustrating the correct techniques for every condition and terrain.
To get the most out of your skiing potential, you need the ultimate in ski instruction. You need Ultimate Skiing.
About the Author
---
Ron LeMaster spent more than 30 years as a ski instructor and race coach. Certified and accredited by the Professional Ski Instructors of America, LeMaster was a technical advisor to the U.S. ski team and Vail Ski School, and he lectured frequently about technique and biomechanics to ski schools and teams around North America, South America, and Europe.
A regular contributor to skiing magazines, LeMaster had also written technical guides for the Professional Ski Instructors of America. He had degrees in mechanical engineering and computer science.
LeMaster passed away in November 2021.
Praise For…
---
"I have been teaching, training, and coaching for over 20 years. Ron LeMaster's insights in Ultimate Skiing have helped create better experiences for everyone I work with on the slopes."
Katie Fry
Managing Director, Ski and Snowboard Schools of Aspen and Snowmass
PSIA and AASI National Education Teams Manager

"Ultimate Skiing explains how to ski smoothly, strongly, and confidently. Through Ron LeMaster's insights from analyzing and coaching the best skiers in the world, you will improve your skills for better days out on the hill."
Daron Rahlves
Hahnenkamm Champion, World Champion, Olympian, 12-Time World Cup Winner, XGames Champion

"Ultimate Skiing provides the definitive description of the inner workings of ski technique and performance. Ron LeMaster's expert instruction, complete with tools and drills to assess and adapt ski technique, is your ticket to skiing like the professionals."
Dee Byrne
Vail Snowsports School Director