Leopard at the Door (Paperback)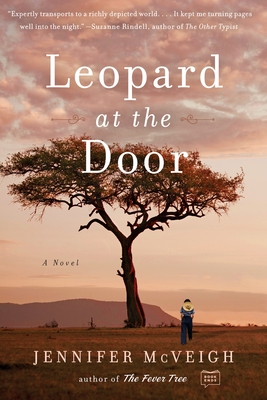 $17.00

Available for special order
Staff Reviews
---
T.H.U.R.S. Book Club selection, August 2018, Redbery Books, Cable, WI.
— From
T.H.U.R.S. Book Club
Description
---
Set in Kenya in the 1950s against the fading backdrop of the British Empire, a story of self-discovery, betrayal, and an impossible love from the author of The Fever Tree.
 
After six years in England, Rachel has returned to Kenya and the farm where she spent her childhood, but the beloved home she'd longed for is much changed. Her father's new companion—a strange, intolerant woman—has taken over the household. The political climate in the country grows more unsettled by the day and is approaching the boiling point. And looming over them all is the threat of the Mau Mau, a secret society intent on uniting the native Kenyans and overthrowing the whites.

As Rachel struggles to find her place in her home and her country, she initiates a covert relationship, one that will demand from her a gross act of betrayal. One man knows her secret, and he has made it clear how she can buy his silence. But she knows something of her own, something she has never told anyone. And her knowledge brings her power.
About the Author
---
Jennifer McVeigh is the author of Leopard at the Door and The Fever Tree. She graduated from Oxford University in 2002 with a First in English literature. She went on to work in film, television, radio, and publishing before giving up her day job to write fiction.
Praise For…
---
Praise for Leopard at the Door

"A dramatic historical period piece...[with] a harrowing, well-paced plot. McVeigh excels ratcheting tension in the plot, and she has a keen eye for the minutiae of everday life in Kenya....The novel is perfect for cold winter days."—The Free Lance-Star

"Readers who want a story that keeps them on edge will enjoy this historical novel rich with emotional and sociopolitical drama."—Kirkus Reviews

"[A] captivating and thought-provoking story....McVeigh's beautiful prose and harrowing plot will quickly absorb readers, particularly those interested in 1950s Africa, by sensitively approaching themes of race, cultural evolution, and the humanness that unites us all."—Publishers Weekly

"McVeigh does a good job of charting Rachel's growth amidst political and personal turmoil, set against a backdrop of Kenya's wild beauty."—Booklist

"Leopard at the Door expertly transports its reader to a richly-depicted world that is fraught both politically and personally. Danger constantly hums around Rachel Fullsmith as she navigates the complex, conflicting desires of men and women, native Kenyans and white colonists. It kept me turning pages well into the night!"—Suzanne Rindell, author of The Other Typist 

"The beating heart of Africa springs into dazzling heat-drenched life. I could taste the sun soaked sweetness of bananas, see the shimmering plains and smell the rippling grasslands. I could feel the ever present sense of threat and menace. And within this landscape populated by elephants, baboons and antelope a powerful human story plays out. A simply stunning novel that will stay with me: a magnificent book."—Dinah Jefferies, author of The Tea Planter's Wife

Praise for The Fever Tree

"McVeigh has created a fully realized sensory tour of 19th-century South Africa....Though the book is a page-turner of the 'who will she choose?' variety right until the end, the most fascinating strand of the story is Frances, and her struggles to come to terms with her new ideas about society, marriage, family and love."—Oprah.com
 
"Fabulous...this debut novel displays real power. McVeigh brings alive the diamond mines, the boom-or-bust frenzy created by instant wealth, the hostility between the Dutch-speaking Boers and the new British colonists....History has rarely been more vividly presented."—USA Today
 
"A page-turner to tempt you."—Good Housekeeping

"Lovely....tremendously appealing....a page-turner."—Associated Press

"McVeigh's distinctive first novel is a lush, sweeping take of willful self-deception....[t]he sensory detail and sweep of the novel are exquisite, particularly for a debut."—Publishers Weekly
 
"Fans of romantic classics such a The Thorn Birds of A Woman of Substance will be thrilled to discover McVeigh."—San Antonio Express-News

"Forceful and direct, yet surprisingly lyrical, McVeigh's narrative weaves top-notch research and true passion for the material with a well-conceived plot....Overall, this story's a gem."—Kirkus Reviews

"With its cinematic descriptions and compulsively readable plotline, this debut novel may well become a book-club favorite....With its social-justice angle; exotic, ruggedly beautiful location; and universal theme of emotional growth, this will have wide appeal."—Booklist