Summers Under the Tamarind Tree: Recipes and memories from Pakistan (Hardcover)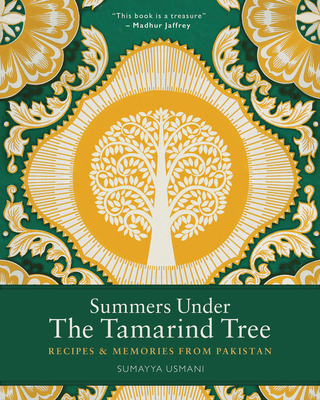 Description
---

Winner 'Best First Book' - Gourmand World Cookbook Awards 2016

Summers Under the Tamarind Tree is a contemporary Pakistani cookbook celebrating the varied, exciting and often-overlooked cuisine of a beautiful country.

Former lawyer-turned-food writer and cookery teacher Sumayya Usmani captures the rich and aromatic pleasure of Pakistani cooking through more than 100 recipes as she celebrates the heritage and traditions of her home country and looks back on a happy childhood spent in the kitchen with her grandmother and mother.

While remaining uniquely its own, Pakistani food is influenced by some of the world's greatest cuisines. With a rich coastline, it enjoys spiced seafood and amazing fish dishes; while its borders with Iran, Afghanistan, India and China ensure strong Arabic, Persian and varied Asian flavours.

Experience the wonderful flavours of Pakistan with:
Aloo ki bhujia (spicy potatoes with nigella seeds and fenugreek)
Hyderabadi-style samosas, filled with red onion, mint and green chilli
Sweet potato and squash parathas
Attock chapli kebab (mince beef flat kebab with pomegranate chutney)
Cardamom and coconut mattha lassi, and many more sensational recipes.
Learn to cook some of the rich, varied and delicious Pakistani dishes with this beautiful showcase of the exotic yet achievable recipes of Pakistan. 
About the Author
---
Sumayya Usmani grew up in Karachi, Pakistan and moved to London over ten years ago, but has found home in Glasgow, Scotland. A food writer and cookery teacher, Sumayya is passionate about sharing the flavours of her homeland with a view to highlighting Pakistani cuisine as a distinct one.  Sumayya advocates cooking by "andaza", (sensory and estimation cooking), which is how she learnt to cook from her mother and grandmothers from a very young age. She appears frequently in many online and print publications, on television, and co-presents BBC Kitchen Cafe weekly on BBC Radio Scotland.
Praise For…
---
'This book is a treasure. Charm, information and what Sumayya calls 'the flavour of my Pakistani heritage' permeates every single recipe. It's an excellent book both for armchair-reading and for its detailed recipes.'—
Madhur Jaffrey
'My favourite sort of cookbook: personal, beautiful and full of things I want to eat.'—
Meera Sodha
'Sumayya's words bring to life the aromas of her exquisite recipes, as well as the story of a little-known culinary heritage. It's wonderful to discover the world of Pakistani food and andaza (sensory cooking) in this perfect cookbook.'—
Olia Hercules
"As the rich secrets of saffron-infused rice and comforting parathas are shared with us, we can be thankful that Usmani ditched law to give a voice to the food of Pakistan."—
The Telegraph Magazine
"Cookbook to Covet…fascinating, visually appealing and filled with tales, childhood memories and plenty of insight into inspiring, traditional dishes from Pakistan" —
Grazia magazine
"I had a choice: stay in, and cook from Sumayya Usmani's fabulous new Pakistani cookbook, Summers Under The Tamarind Tree, or review a restaurant. Glasgow-based Usmani has produced one of those volumes you should definitely not read in bed because it will wake you up and make you urgently hungry."—
Joanna Blythman
,
Sunday Herald
"Memoir cookbooks are often the most successful in the food genre. Sumayya Usmani's Summers Under the Tamarind Tree is a perfect example, more than living up to the "recipes and memories from Pakistan" that the subtitle promises." —
The Irish Times
"Open this spellbinding cookbook, and its stunning photographs will instantly cast you away to the bustling markets, street food stalls and generously-laden dinner tables of Pakistan. Sumayya Usmani garnishes her recipes with charming anecdotes about her childhood in Pakistan. This book is an unprecedentedly authentic snapshot into the culinary culture of this often overlooked country."—
independent.co.uk
"The most talked-about cookbook of 2016 so far has been this delightful collection of recipes showcasing Pakistani cuisine"—
Asiana Wedding magazine
"A successful combination of recipe book and memoir which will give you an interesting - and tasty - introduction to Pakistani cookery."—
UK Handmade
"...as soon as I'd turned the first page and started reading I felt myself instantly drawn in."—
Great British Chefs
"Beautifully written and photographed, this collection of more than 100 family recipes will inspire you to open up the spice cabinet and make something brand-new."
—
FoodRepublic.com
"This book is an excellent read, full of information for those seeking to dip into Pakistani cookery and need a helpful hand or those experienced and looking to expand their skills and tastes." —
Food and Drink Glasgow