2015 Edition - The practical guide to Health Care Advance Directives (Paperback)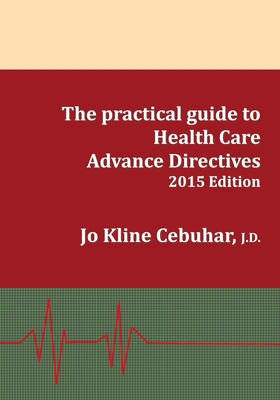 $14.99

Available in our warehouse. Ships in 2 - 3 Days
Description
---
What you've heard is true. You need Health Care Advance Directives. Would you like to know why? In her award-winning 2006 book, "Last things first, just in case," attorney Jo Kline first addressed the approaching crisis surrounding aging and end-of-life care in America. The perfect storm she predicted is now peeking over America's horizon:
- America's dramatically aging population
- The dwindling financial and human resources available to address their needs
- Our pervasive lack of health literacy. Considering, communicating and documenting your choice of a substitute decision maker and a process for shared decision making is a key element of achieving and practicing effective health literacy. Bringing together legal expertise, engaging stories and a plain-spoken narrative, Jo helps readers prepare to face the unique legal and medical challenges of death and dying in America. This user-friendly guide to Advance Care Planning and creating and sharing effective health care advance directives includes:
- The Four Simple Steps: Education, Delegation, Communication and Documentation.
- The importance of a health care proxy and how to choose the most qualified advocate.
- "Lightbulb moments "-tips and shortcuts for effective advance health care planning. The right time to make a plan for managing health care and end-of-life care is while you still can. The time is now. The International Association for Hospice and Palliative Care: "This book is written for the lay person and is by far the best and clearest that I have seen. If someone, anywhere-not just the USA-wants a book to explain what Advance Directives are all about, why they need them, and how to (and how not to) go about doing it, then I would be happy to recommend this book." - Dr. Roger Woodruff, Lifetime Board Member of IAHPC.
About the Author
---
Attorney Jo Kline has been writing and speaking about health literacy, medical decision making and the meaning of legacy for over a decade-since serving as volunteer chair of Iowa's largest hospice. Her books include "THE 60-MINUTE GUIDE TO HEALTH LITERACY," "SO GROWS THE TREE - Creating an Ethical Will" and her 2014 novel, "EXIT," set in a small town hospice. Jo is also the author of a multistate Health Care Advance Directive that reflects contemporary medical conditions and treatment choices, and acts as a guide for medical decision making in any health care situation. Among other print and broadcast media, Jo has been featured in The New York Times, Reader's Digest and The Philadelphia Inquirer. She is a frequent guest essayist for the Des Moines Register and contributor to online news outlets.