Your Handwriting Can Change Your Life (Paperback)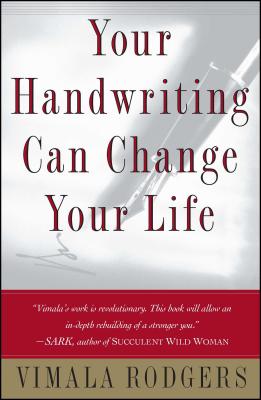 $17.99

Available in our warehouse. Ships in 2 - 3 Days
Description
---
When we purposefully change our handwriting, we introduce attitudes that can improve our relationships, give us the impetus to achieve and take risks, and simply bring out the best in us. This is because our handwriting is a reflection of our innermost thoughts and feelings. When we fall in love, survive a serious illness, or change careers, our view of life is dramatically altered and, as a result, our handwriting patterns change. Conversely, desired transformations can result from intentionally changing the way specific letters are written:
* Stick to that diet by changing the letter T.
* Avoid being overlooked for that well-deserved promotion by changing the letter G.
* Reduce stress and cease juggling too many things at once by changing the letter S.
* Overcome shyness or stage fright by changing the letter A.
Included is an enlightening assessment test that identifies those personality traits requiring attention. Your Handwriting Can Change Your Life profoundly reveals that the key to making dreams come true is as simple as putting pen to paper.
About the Author
---
Vimala Rodgers is an educator, handwriting expert, and motivational speaker, as well as the Director of The Vimala Rodgers Institute of Integral Handwriting Studies in Cool, California, where she lives. She can be contacted at http://www.iihs.com.
Praise For…
---
Sark author of Succulent Wild Woman Vimala's work is revolutionary. This book will allow an in-depth rebuilding of a stronger you.

Elaine St. James author of Simplify Your Life Vimala reveals with infectious enthusiasm a wealth of powerful techniques that, I can promise from my own experience with them, will definitely change your life.

Christiane Northrup, M.D. author of Women's Bodies, Women's Wisdom [This book] is just plain exciting. I feel strongly that Vimala Rodgers is right, so I'm starting my handwriting changes today. I urge you to do the same.

Henriette Anne Klauser, Ph.D. author of Write It Down, Make It Happen Mr. Palmer, step aside. The Vimala Alphabet is ready to change the world. Vimala Rodgers is passionate about her topic and makes it fun to play along.

Bernie Siegel, M.D. author of Love, Medicine and Miracles and Prescriptions for Living Symbols are the key to communication. Read this fascinating book about self-expression to understand yourself and your ability to change.

Margaret Shepherd author of Calligraphy Made Easy and The Art of the Handwritten Note Vimala offers a fresh, pure, and striking alphabet to anyone whose handwriting needs some encouragement even those who are ready to give up. If you clutch and go dismal at the thought of presenting yourself on paper, you need this book.

Andrew Ramer author of Angel Answers and Revelations for a New Millennium What yoga is to the body-mind, Vimala Rodgers¹s work is for the mind-body. I highly recommend her joyful book to everyone on the path toward healing and wholeness; it¹s a missing link in the holistic field.