The Road Home (Paperback)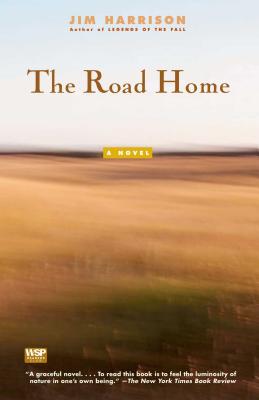 $17.00
Available in our warehouse. Ships in 2 - 3 Days
Description
---
The Road Home lies in the shadows of Manifest Destiny and Wounded Knee; it is etched into the landscape of an old man's memory and into the stubborn dreams of a young man's heart. In one of Jim Harrison's greatest works, five members of the Northridge family narrate the tangled epic of their history on the expanses of the Nebraska plains. They strive to understand their fates, to reconcile with demons of the past, to live in accordance with the land and to die with grace. As the family grapples with the mysterious forces that both pull them apart and draw them inextricably back together, they must come to term with life's greatest and hardest lessons: the deception of passion, the pain of love, the vitality of art, and the supplication to nature's generosity and fury.
About the Author
---
Jim Harrison is the author of three volumes of novellas, Legends of the Fall, The Woman Lit by Fireflies, and Julip; seven novels, Wolf, A Good Day to Die, Farmer, Warlock, Sundog, Dalva, and The Road Home; seven collections of poetry; and a collection of nonfiction, Just Before Dark. He has been awarded a National Endowment for the Arts grant and a Guggenheim Fellowship. He lives in northern Michigan and Arizona.
Praise For…
---
"A graceful novel...To read this book is to feel the luminosity of nature in one's own being."

"The Road Home confirms what his longtime fans already know: Harrison is on the short list of American literary masters."

"Demonstrates why [Harrison] is considered one of the best storytellers around."

"The Road Home is Harrison at the peak of his powers, a splendid combined prequel and sequel...very much alive and probably his best novel."

"The Road Home is a rapturous but unsentimental hymn of praise for the wonderous strangeness of life."

"Wins our hearts and minds with its thoughtful meditation on the cyclical nature of life."

"Each Northridge family member stitches in a piece of the family history. They are such good company you forget they exist nowhere but in Harrison's imagination."

"Harrison gives us characters with heart and soul; keen-eyed and rarely sentimental, they are the sorts of people we'd like to be.".

"Rich in character, complex in theme, dazzling in scope....The cumulative effect is overwhelming."