Use Your Words, Sophie (Hardcover)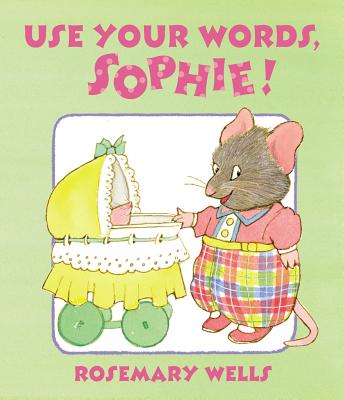 Description
---
Sophie knows lots of words, but she doesn't always use them.  It's more fun to speak in hyena talk or space language.  "Use your words, Sophie!" urge her parents, but Sophie just won't.

But when her new baby sister arrives, Sophie is the only one who can find out what she really wants.  

Use Your Words, Sophie is the third book about the irrepressible two-year old who is wonderful, terrible, and always lovable.
About the Author
---
Rosemary Wells is the author of many books for children, including the Max and Ruby books about the popular bunnies who star in their own show on Nick, Jr. In reviewing Sophie's Terrible Twos, Publishers Weekly  said: "Wells continues to demonstrate an almost telepathic gift for distilling everyday frustrations and triumphs to their essence." Visit her at www.rosemarywells.com.
Praise For…
---
Praise for Use Your Words, Sophie:

"This is Wells at her comedic best, and readers will be left in stitches. Absolutely enchanting—a must-have" —Kirkus, starred review

"Wells remains a master of conveying intense emotions through subtly funny writing, smartly observed situations. . . and emotionally telegraphic art." —Publishers Weekly, starred review

"Another winner from Wells." —School Library Journal

"This gentle, lightly piquant outing combines authentic humor and recognizable growing pains in a comfortable tale sure to delight young listeners, with or without siblings." —Booklist

Praise for Sophie's Terrible Twos:

"Wells continues to demonstrate an almost telepathic gift for distilling everyday frustrations and triumphs to their essence." —Publishers Weekly, starred review

"Wells's beloved illustrations and her characteristic wit are pitch-perfect" —School Library Journal

Praise for Time-Out for Sophie:

"[A] soon-to-be favorite . . . Readers will clamor for more of the irrepressible Sophie, while parents will secretly smile—sheer delight." —Kirkus, starred review

"Wells's signature artwork is vivid and pleasingly simple, and the characters are endearing." —School Library Journal, starred review

"As wise (and concise) as ever, Wells lets readers have guilt-free fun savoring Sophie's naughtiness, but delivers the story's aha moment with an equally deft hand." —Publishers Weekly

"As always, Wells portrays her character's developmentally appropriate behavior with genuine respect and affection." —The Horn Book

"Wells captures a rite of passage—the terrible twos—both for the little one and for her exasperated parents." —Booklist