Godspeed (Paperback)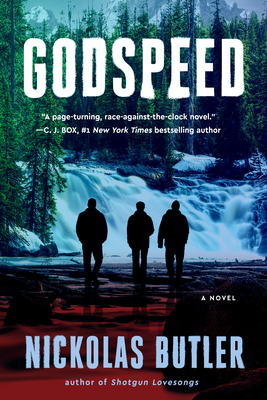 Description
---
Longlisted for the Reading the West Book Award

For the right price, you'd risk your life. Wouldn't you?

Cole, Bart, and Teddy, the three principals of True Triangle Construction, are hired to finish a project for a mysteriously wealthy homeowner. The grand house is unlike anything they've worked on before, and they're sure it'll put their name on the map. But the owner is intent on having it built in a few months, an impossible task made irresistible by an exorbitant bonus.

Up against the critical deadline and the threat of a harsh Wyoming winter, the trio will do anything to get the money, even if it means risking their lives…or each other's. With heart-pounding danger and high-stakes action, Godspeed is a gripping thriller about greed and violence that asks: How much is never enough?

About the Author
---
Nickolas Butler is the internationally bestselling author of the novels Shotgun Lovesongs, The Hearts of Men, and Little Faith, and the story collection Beneath the Bonfire. Butler is the recipient of multiple literary prizes and commendations and has published articles, reviews, short stories, and poetry in publications such as Ploughshares, Narrative, and The New York Times Book Review, among others. A graduate of the University of Wisconsin-Madison and the Iowa Writers Workshop, he now lives with his wife and two children on sixteen acres of land in rural Wisconsin.
Praise For…
---
One of Lit Hub's 20 New Books to Get You Through the Week 

"An effective blend of rural fable and snow-lashed Rocky Mountain noir . . . The set-up is pure Hitchcock. . . . A finely tuned literary thriller and a portrait of small-town life as a Petri dish of hope and hubris." –Financial Times

"Examine[s] questions about class and capitalism in America while delivering a thriller-style ride. The bad and bloody decisions could be made by any of us desperate enough to chase the real American dream." –Minneapolis Star Tribune

"[Godspeed] has a ticking-clock momentum....Reminiscent of Treasure of the Sierra Madre or A Simple Plan, showing how greed can corrupt even the most upstanding of men." –Madison Capital Times

"A suspenseful page-turner." –Wisconsin State Journal

"Godspeed is set against a lush Jackson Hole background of mountains and meadows, mineral springs and wildlife. It contrasts the lifestyles of the very rich against the working poor and the disdain of wealthy faux cowboys for the real thing." –Denver Post

"Examine[s] questions about class and capitalism in America while delivering thriller-style ride." –GazetteXtra

"Butler's award-winning talent as a storyteller (Little Faith) propels his characters on a heart-stopping, daring race with unexpected outcomes. Godspeed indeed." ­–Library Journal

"As in his previous three novels, Butler brings sympathy and insight to the familiar rituals and dynamics of male friendship....An exceptional tale, once it gets going, of what money can do to those who need it." –Kirkus Reviews

"This ambitious thriller from Butler highlights the conflict between wealthy transplants and blue-collar locals in the increasingly gentrified rural West." –Publishers Weekly

"From triumph and tragedy to pathos and redemption . . . As real as anything you are likely to read this year. . . . It's hard to walk away from Godspeed without being grateful for the life one has, and that in itself makes it more than worth reading." –BookReporter

"A fast-moving, highly addictive novel of ambition, obsession, and long-festering dreams of the haves and have nots. I loved this book from start to finish and marveled at the expert construction and storytelling." –Ace Atkins, author of The Revelators and The Heathens

"Godspeed is a page-turning, race-against-the-clock novel about fatal obsession, love, violence, addiction, and faith beautifully set in my home state of Wyoming. After you turn the last page it'll stay with you for a long, long time." –C.J. Box, author of Dark Sky

"A glorious novel, as lyrical as it is suspenseful—breathless, tense, and shimmering with the sweat of desperate men. Butler delivers mystery and tragedy against a beautiful, inhospitable backdrop, anchored in the struggles of a thrummingly vivid cast of characters." —Steph Cha, author of Your House Will Pay

"Is there a novelist writing today more adept at revealing the conflicts in the psyche of the American male than Nickolas Butler? In Godspeed, a novel that moves with the power and velocity of an avalanche, he's done it again—this time with a tale of men chasing dreams of riches—think The Treasure of Sierra Madre, though in the mountains of the American West—men whose desperation drives them relentlessly toward madness and murder. Butler's characters, partners in a Wyoming construction company, have agreed to build a woman's mountainside dream house. If they complete the project by what seems an impossible Christmas deadline, they'll become wealthy; if they fail, they'll walk away with nothing. As winter snows bear down on the Tetons, readers won't be able to turn the pages of Godspeed fast enough." –Larry Watson, author of Montana 1948 and The Lives of Edie Pritchard

"Set in an American West torn between its pinewood past and marble future, Godspeed is the story of three childhood friends and the construction contract that will make--or break--their lives. What begins as a novel of optimism and ambition morphs into a dark warning about the end-game of American capitalism. With his characteristically rich and transporting prose, Nickolas Butler continues the urgent examination of class and culture he began in his beloved debut, Shotgun Lovesongs." –John Larison, author of Whiskey When We're Dry 

"Not many writers can turn any subject into gold, but Nick Butler is one of them. In Godspeed, he tells the story of three buddies and business partners who get an offer that may be too good to be true. What begins as a construction project full of good work and good cheer soon goes off the rails, with dire consequences. This novel is about addiction, ambition, and America at the crossroads of its own demise, and in Butler's brilliant, capable hands, it ends up feeling like a lived experience." –Peter Geye, author of Northernmost

"Once again the great Nickolas Butler has expanded his already estimable fictional territory, this time with a page-turner of the highest order set in the New, if quickly vanishing, West. Featuring an unlikely foursome of hardscrabble, fallible characters, and a plot as chiseled and severe as the Wyoming landscape, Godspeed has enough energy to shake a house. As captivating and as durable as No Country for Old Men. Impossible to put down. And even harder to forget." –Chris Dombrowski, author of Body of Water

"Godspeed reads like a modern fable or a contemporary western—a bloody and violent version of the American Dream in which ambition, addiction, and frailty are locked in what is at times an almost unbearably painful struggle with loyalty, love, and hope." –Carys Davies, author of West