The Zig Zag Girl: The First Brighton Mystery (Brighton Mysteries #1) (Paperback)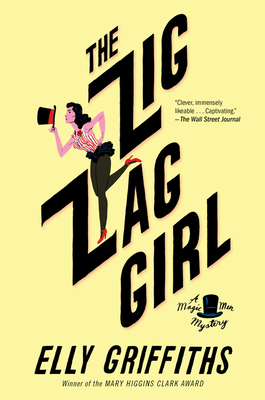 $16.99

Available in our warehouse. Ships in 2 - 3 Days
Other Books in Series
This is book number 1 in the Brighton Mysteries series.
Description
---
The chilling debut mystery in the Brighton Mysteries series from Edgar Allen Poe Award-winner Elly Griffiths—author of the Ruth Galloway Mysteries—about a band of magicians who served together in World War II tracking a killer who's performing their deadly tricks.

"Captivating."—Wall Street Journal

"An absorbing read, the debut of another great series."—San Jose Mercury News

"A labyrinthine plot, a splendid reveal, and superb evocation of the wafer-thin veneer of glamour at the bottom end of showbusiness . . . Thoroughly enjoyable." —Guardian

Brighton, 1950. A girl is found cut into three sections, and Detective Inspector Edgar Stephens is convinced the killer is mimicking a famous magic trick—the Zig Zag Girl. The inventor of the trick, Max Mephisto, served with Edgar in a special ops group called the Magic Men that used stage illusions to confound the enemy. Max still performs, touring with ventriloquists, sword-swallowers, and dancing girls.

When Edgar asks for his help with the case, Max tells him to identify the victim, for it takes a special sidekick to do the Zig Zag Girl. Those words haunt Max when he learns the victim was a favorite former assistant of his own. And when Edgar receives a letter warning of another "trick" on the way, he realizes that it is the Magic Men themselves who are in the killer's sights.

"Enormously engaging . . . Griffiths's plot is satisfyingly serpentine."—Daily Mail

"Readers will finish looking forward to the next trick up [Griffiths's] sleeve."—Mystery Scene
About the Author
---
ELLY GRIFFITHS is the author of the Ruth Galloway and Brighton mystery series, as well as the standalone novels The Stranger Diaries, winner of the Edgar Award for Best Novel, and The Postscript Murders. She is the recipient of the CWA Dagger in the Library Award and the Mary Higgins Clark Award. She lives in Brighton, England.
Praise For…
---
One of Entertainment Weekly's 10 Great Fall Thrillers "Clever, immensely likeable...Captivating...The Zig Zag Girl is old-fashioned in the best ways." —The Wall Street Journal "With a labyrinthine plot, a splendid reveal and superb evocation of the wafer-thin veneer of glamour at the bottom end of showbusiness, this is thoroughly enjoyable." —The Guardian's "Best Crime Novels Round-Up" "With her cast of quirky characters, her excellent plotting, and a twist that readers won't see coming, readers will finish looking forward to the next trick up [Griffiths's] sleeve." —Mystery Scene   "An interesting change of direction for the talented Griffiths…Enormously engaging…Post-war Brighton, and its Theatre Royal are beautifully captured in all their seedy glory, and Griffiths' plot is satisfyingly serpentine…Subtle, charming and very good indeed." —The Daily Mail   "A colourful crowd of ventriloquists and sword-swallowers, a world lovingly re-created in this original, lively and gripping work." —The Independent   "Elly Griffiths' compelling novel The Zig Zag Girl takes readers on a wild ride full of mayhem, magic, and murder… Griffiths expertly weaves together Edgar's past and present into one fascinating mystery that will have readers hooked from the very start… Capturing both the vibrant qualities of the theater community while also expertly capturing its dark side, Griffiths creates a world where nothing is as it truly appears to be." —The Absolute   "One to look forward to." —BookPage "Griffiths weaves a compelling tale rich with historical detail and a cast of eccentric characters."  —Kirkus "Griffiths's ability to imbue atmosphere and create fascinating characters continues to make her an author every mystery lover should be reading. Lacking the usual forensics and druids of her previous series, this title may especially appeal to cozy and historical mystery fans." —Library Journal "Engaging...The portrayal of the backstage life and the onstage performances of illusionists forms a fascinating backdrop to the main action. Brief flashbacks to the Magic Men's wartime missions provide an equally gripping backstory. As the plot deepens, Griffiths's tone darkens, leading to a series of surprise twists. Readers will look forward to seeing a lot more of Max and company." —Publishers Weekly —