Bull (Hardcover)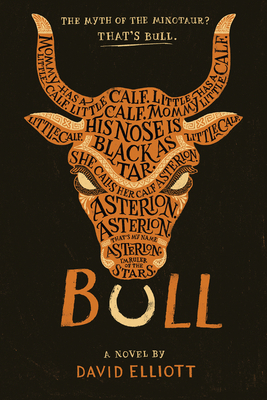 Description
---
Much like Lin-Manuel Miranda did in
Hamilton,
the
 New York Times
best-selling author David Elliott turns a classic on its head in form and approach, updating the timeless story of Theseus and the Minotaur. A rough, rowdy, and darkly comedic young adult retelling in verse, which NPR called
"beautifully clever,"
Bull
will have readers reevaluating one of mythology's most infamous monsters. 
SEE THE STORY OF THESEUS AND THE MINOTAUR
IN A WHOLE NEW LIGHT  
Minos thought he could
Pull a fast one
On me,
Poseidon!
God of the Sea!
But I'm the last one
On whom you
Should try such a thing.
The nerve of that guy.
The balls. The audacity.
I AM THE OCEAN!
I got capacity!
Depths! Darkness! Delphic power!
So his sweet little plan
Went big-time sour
And his wife had a son
Born with horns and a muzzle
Who ended up
In an underground puzzle.
What is it with you mortals?
You just can't seem to learn:
If you play with fire, babies,
You're gonna get burned.     
About the Author
---
David Elliott is a NY Times bestselling children's author. His many titles include: And Here's to You!, The Transmogrification of Roscoe Wizzle, The Evangeline Mudd books, Finn Throws a Fit!, Jeremy Cabbage and the Living Museum, and In the Wild. His most recent titles include On the Wing, This Orq. books, and Nobody's Perfect.  Born in Ohio, David has worked as a singer, a cucumber washer, and a popsicle stick maker. Currently, he lives in New Hampshire with his wife and a three-footed dog. If you'd like to know more about David and his books, visit him at davidelliottbooks.com or follow him on Twitter @DavidElliott10.
Praise For…
---
"Beautifully clever."—Weekend Edition Saturday

★ "Razor-sharp rhyme schemes and sly, vicious humor make Bull a bawdy yet sophisticated romp, a literary feast fit for the gods." – Shelf Awareness, starred review

★ "Elliott contemporizes the ancient story of blackmail, betrayal, and revenge with humor, poignancy, and profanity . . . . the personalities and voices Elliott brings to these mythical characters make this powerful and engrossing book a genre of its own." —Publishers Weekly, starred review

★ "...Elliott's clever verse version of the classical story of the Minotaur: its title, Bull, is topically and colloquially apt." —Horn Book, starred review

★ "There's nothing half-blooded or Disneyfied in David Elliott's energetic, multi- voiced verse novel retelling . . . . Brief, useful notes explain both the liberties taken with the myth and choices of form for each character. Nods to Hamilton are inevitable, but whether or not Lin-Manuel Miranda had anything to do with inspiring what we hope will be a trend of transforming old stories into hip-hop gold, all readers and educators can say at this point is keep 'em coming." —Bulletin, starred review

★ "Elliott's absolutely magnetic rhythms will wake up any high school class, and the book could also work as a play. Irresistible, slick, and sharp (no bull!)—with plenty of bull to dissect." —Kirkus, starred review

★ "This striking reexamination of the Greek myth Theseus and the Minotaur [is] a conceit that easily could have floundered; in Elliott's capable hands, it soars." 
— Booklist, starred review

"Elliott's contemporary take on the classic myth incorporates modern slang, profanity, and a bawdy sense of humor into an accessible, highly entertaining, and original novel... Recommended for most large collections, particularly those in need of engaging interpretations of classic myths." —School Library Journal

"It's rude, it's crude, and it's a whole bunch of fun."—BookPage

"David Elliott's Bull does for mythology what Lin-Manuel Miranda's Hamilton has done for U.S. history. Teens of all genders and reading levels will devour this salty, quick-witted retelling and the timely truth of this story: It takes a god to make a boy into a beast, but it is us humans who turn him into a monster. I loved this book." —Allan Wolf, author of The Watch That Ends the Night and New Found Land
 
"Stunning, explosive, and brilliantly-crafted. BULL is a perfect addition to the new canon of classics." —Liz Wright, Brazo Books
 
"Dark, disturbing, and devastatingly good." —Elana K. Arnold, author of Infandous and Sacred
 
"What an extraordinary book! Saucy and thoroughly modern, Bull feels both ageless and of our time, and is, above all, a bracing, unforgettable read." —Jane Brox, author of Brilliant: The Evolution of Artificial Light
 
"The voices in this poem—as much hip hop as epic—taunt in a spirit that is at once modern ghetto and ancient philosopher. As a lover of the Greek tales, I'm so grateful for this dizzying ride." —Donna Jo Napoli, author of Sirena, Bound, and Beast

"Irreverent and witty, the book is a fantastic labyrinth of its own, with new turns and twists that deliver us to the wisdom at its center." —Kyoko Mori, author of One Bird and Shizuko's Daughter

"A remix told in striking and affecting verse, BULL offers a modern, haunting look at this story of power, lust, love, and revenge" —Sara Grochowski, Brilliant Books
 
"An entirely refreshing twist on the indelicate undercurrents of Greek Mythology, BULL will inspire today's readers to rediscover the classics." —Sara Hines, Eight Cousins Books