Children of Ash and Elm: A History of the Vikings (Hardcover)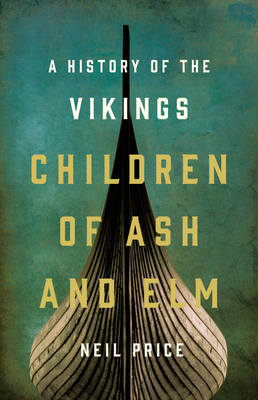 $35.00
Available in our warehouse. Ships in 2 - 3 Days
Description
---
The definitive history of the Vikings -- from arts and culture to politics and cosmology -- by a distinguished archaeologist with decades of expertise
The Viking Age -- from 750 to 1050 -- saw an unprecedented expansion of the Scandinavian peoples into the wider world. As traders and raiders, explorers and colonists, they ranged from eastern North America to the Asian steppe. But for centuries, the Vikings have been seen through the eyes of others, distorted to suit the tastes of medieval clerics and Elizabethan playwrights, Victorian imperialists, Nazis, and more. None of these appropriations capture the real Vikings, or the richness and sophistication of their culture.
Based on the latest archaeological and textual evidence, Children of Ash and Elm tells the story of the Vikings on their own terms: their politics, their cosmology and religion, their material world. Known today for a stereotype of maritime violence, the Vikings exported new ideas, technologies, beliefs, and practices to the lands they discovered and the peoples they encountered, and in the process were themselves changed. From Eirík Bloodaxe, who fought his way to a kingdom, to Gudrid Thorbjarnardóttir, the most traveled woman in the world, Children of Ash and Elm is the definitive history of the Vikings and their time.
About the Author
---
Neil Price is distinguished professor and chair of archaeology at Uppsala University, Sweden. He has been researching, teaching, and writing on the Vikings for nearly thirty-five years and is the author of several books on the history of the Viking Age. He lives in Sweden.
Praise For…
---
"A thrilling read....The stereotype of the Viking that we know from history books and popular media is here dismantled and presented anew by Mr. Price in all its wonderful, terrifying complexity and ambiguity. By clarifying the long-reaching effects of Scandinavian influence,
Children of Ash and Elm
brings a dramatically altered understanding of the Viking Age to a wider international audience."
—Wall Street Journal
"As Neil Price shows in his colorful, revelatory new book, we are almost always looking at the Vikings the wrong way around.... He may know more about medieval Scandinavia than anyone else alive, and he aims to show us these fascinating people as they saw themselves, not as they were perceived by those on the sharp end of their robbery.... Thousands of books have been published about the Vikings -- this is one of the very best."
—Sunday Times (UK)
"I fell in love with Neil Price's comprehensive new history of the Vikings.... [Price] hits major high points, while also introducing nonspecialists to the major questions that those who know a lot about Vikings still consider unresolved.... Dazzle[s] the reader with cinematic detail."
—Slate
"As vivid as it is learned, as thrillingly cutting edge as it is deep-rooted in the distant past, this is as brilliant a history of the Vikings as one could possibly hope to read."
—Tom Holland, author of Dominion: How the Christian Revolution Remade the World
"Neil Price offers a spirited account of the Vikings from unexpected angles, and brilliantly succeeds in seeing the world from their perspective rather than from that of the people whose lands suffered from Viking raids. He shows that this was a world in which gods, spirits and humans co-existed and one in which the savagery of warfare was counter-balanced by peaceful settlement as far away as Greenland and briefly North America."
—David Abulafia, professor emeritus of Mediterranean history, University of Cambridge, and author of The Boundless Sea: A Human History of the Oceans
"Elegantly conceived, constantly surprising...With clarity and verve, Price examines various aspects of Viking society...An exemplary history that gives a nuanced view of a society long reduced to a few clichés."
—Kirkus (starred review)
"The breadth and thoroughness of Price's research impresses. Readers interested in Viking culture should consider this monumental history a must-read."
—Publishers Weekly
"An immense undertaking from an expert who has studied the Vikings for almost 35 years, this is a masterful piece of work that seeks to present the historical Vikings as distinct from the caricatures of pop culture.... An engaging and engrossing read. Exhaustively researched using cross-disciplinary resources, this breathtaking, epic history will appeal to all types of readers."
—Library Journal
"Majestic....
Children of Ash and Elm
illuminates the brutal realities of Viking raids, of course, but its revelatory power comes from its focus on the culture that built and launched those ships, an industrial feat more impressive than the pillaging.... Price's stripping away of Viking cliché still leaves warriors worthy of the songs -- they're just
people
now, too."
—Shelf Awareness