Milan Systemic Family Therapy: Conversations In Theory And Practice (Hardcover)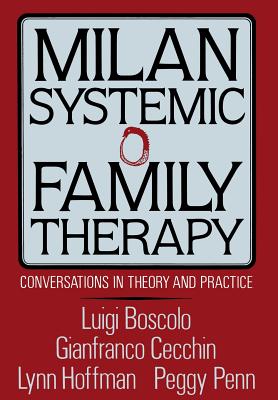 $52.00

Available in our warehouse. Ships in 2 - 3 Days
Description
---
This long-awaited book is the first to offer a complete and clear presentation of the therapy of the Milan Associates, Luigi Boscolo and Gianfranco Cecchin. Based on cybernetic theory, their work has had dramatic success in helping families change behavior. This practical and enlightening book uses clinical cases and the fascinating conversations among the four authors to examine the relationship between Milan theory and practice.Transcripts of sessions conducted by Boscolo and Cecchin—which include a family that is hiding a history of incest and one dominated by an anorectic girl—provide vivid examples of family interaction and therapeutic imagination. In the accompanying conversations with Boscolo and Cecchin about these sessions, Hoffman and Penn take us behind the scenes to show how the therapists think through and conduct their therapy. These highly readable conversations clarify the essentials of the therapy, including hypothesizing, circular questioning, positive connotation, and crafting interventions. Like Milan therapy itself, the interviews are recursive; new ideas about the therapy feed back into the conversations and stimulate further revelations. A lengthy introduction sets the Milan approach in historical context, and introductions to the individual cases highlight the main ideas.
About the Author
---
Lugi Boscolo is co-director of the Centro Milanese di Terapia della Famiglia.

Gianfranco Cecchin is co-director of the Centro Milanese di Terapia della Famiglia.

Lynn Hoffman is the author of Foundations of Family Therapy (Basic Books, 1981) and, with Jay Haley, of Techniques of Family Therapy (Basic Books, 1967).

Peggy Penn is director of training at the Ackerman Institute of Family Therapy.