Poems by Robert Frost: A Boy's Will and North of Boston (Mass Market)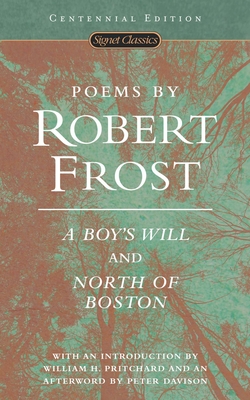 Description
---
A collection of two of Robert Frost's most celebrated poems in their original form: A Boy's Will and North of Boston.
 
The publication of A Boy's Will (1913) and North of Boston (1914) marked the debut of Robert Frost as a major talent and established him as the true poetic voice of New England. Four of his volumes would win the Pulitzer Prize before his death in 1963, and his body of work has since become an integral part of the American national heritage.
 
This is the only edition to present these two classics in their original form. A Boy's Will introduced readers to Frost's unmistakable poetic voice, and in North of Boston, we find two of his most famous poems, "Mending Wall" and "The Death of the Hired Man." With an introduction by distinguished critic and Amherst professor William H. Pritchard and an afterword by poet and critic Peter Davison, this centennial edition stands as a complete and vital introduction to the work of the quintessential modern American poet.
About the Author
---
Robert Lee Frost was born in San Francisco in 1874. When he was ten, his father died and he and his mother moved to New England. He attended school at Dartmouth and Harvard, worked in a mill, taught, and took up farming before he moved to England, where his first books of poetry, A Boy's Will (1913) and North of Boston (1914), were published. In 1915 he returned to the United States and settled on a farm in New Hampshire. Four volumes of his poetry—New Hampshire (1923), Collected Poems (1930), A Further Range (1936), and A Witness Tree (1942)—were awarded the Pulitzer Prize. He died in 1963.
 
William H. Pritchard is a distinguished critic and Henry Clay Folger Professor of English at Amherst College. Among his works are On Poets and Poetry and Frost: A Literary Life Reconsidered.
 
Peter Davison was an esteemed critic, poetry editor for The Atlantic Monthly, and author of ten books of verse, including The Breaking of the Day, winner of the Yale Younger Poets Award, and such works of nonfiction as One of the Dangerous Trades: Essays on the Work and Working of Poetry.