Just One Evil Act: A Lynley Novel (Paperback)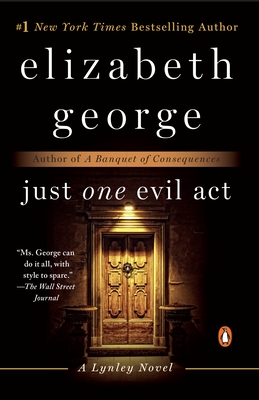 $18.00

Available in our warehouse. Ships in 2 - 3 Days
Description
---
#1 New York Times bestselling author of The Punishment She Deserves Elizabeth George delivers another masterpiece of suspense in her Inspector Lynley series: a gripping child-in-danger story that tests Detective Sergeant Barbara Havers as never before.

Barbara is at a loss: Hadiyyah, the daughter of her friend Taymullah Azhar, has been taken by her mother, and Barbara can't really help. Azhar has no legal claim.

Just when Azhar is beginning to accept his soul-crushing loss, he gets more shocking news: Hadiyyah has been kidnapped from an Italian marketplace. As both Barbara and her partner, Inspector Thomas Lynley, soon discover, the case is far more complex than a typical kidnapping, revealing secrets that could have far-reaching effects outside of the investigation. With both her job and the life of a little girl on the line, Barbara must decide what matters most and how far she's willing to go to protect it.
About the Author
---
Elizabeth George is the New York Times bestselling author of nineteen psychological suspense novels, three young adult novels, one book of nonfiction, and two short-story collections. Her work has been honored with the Anthony and Agatha awards, as well as several other prestigious prizes. She lives in Washington State.
Praise For…
---
Praise for Just One Evil Act

"Riveting tale of love, passion, and betrayal . . . series fans will enjoy following Lynley and Havers on their first investigation outside the U.K., while newcomers will be just as enthralled." —Publishers Weekly (starred review)

"Just One Evil Act [is] among the most demanding and satisfying of the many detective novels by Elizabeth George." —The Wall Street Journal

"A serious, suspenseful, thought-provoking and heart-rending novel." —Richmond Times Dispatch

"George is a master of the wily plot and the timely tossed out red herring. . . . George's fans will be glad to see Havers back in action, even though, as ever, she's quick to land in trouble. And as for Lynley—well, he's as cool as ever, in more than one sense of the word." —Kirkus Reviews

"This is a must for fans of this series. Twists and turns are vintage George and do not disappoint." —Library Journal

Praise for #1 New York Times bestseller Believing the Lie

"A multiplicity of subplots and a richness of physical detail. . . . The terrain and the weather are objective correlatives to the characters' stormy patches. Meanwhile, the story strands are untied and retied in satisfying and often moving ways." —The Wall Street Journal

"Elizabeth George is a superstar of the crime-fiction world, British Inspector Division. Deservedly so: Her tales always provide nuanced character studies and insights into social issues along with their intricate mysteries." —The Seattle Times

"Devilishly complicated." —Entertainment Weekly

"A dense, twisty plot with characters who reveal the sad spectrum of human dereliction." —People

"Masterly . . . an intricate crime drama." —Marie Claire

"George's . . . ability to continually enhance the portraits of Lynley, Havers, and other recurring characters while generating fully fleshed new ones for each novel is nothing less than superlative, and her atmospheric prose, complete with lovely and detailed descriptions of her setting, combines to add literary gravitas to her work. . . . A worthy addition to her portfolio and one that simultaneously disturbs and satisfies." —Richmond Times-Dispatch

"This is one of her best." —Daily American 

"[Lynley's] back in fine form. . . . George has given us a story filled with sex, grit, love, and everything in between." —The Gazette (Montreal)

"George's many fans . . . will be thrilled with this new episode in the lives of her lovable cast of characters." —Library Journal 

"Believing the Lie is so fascinating that even at a thundering 606 pages, I wished for at least 10 more." —Mystery Scene 

"George is a master of interweaving character perspectives to reveal her mysteries." —SheKnows Book Lounge

"George's strengths—character development, plot twists and shocking tragedy—continue to shine." —Shelf Awareness 

"A book of twists, turns, and, to be blunt, fantastic writing. . . . A complete A+ for the mystery realm." —Suspense Magazine 

"A page-turning plot." —World 

Praise for Elizabeth George
 
"A master of the English mystery." —The New York Times

"Definitely a literary force to be reckoned with." —Suspense Magazine

"It's tough to resist George's storytelling, once hooked." —USA Today

"Ms. George can do it all, with style to spare." —The Wall Street Journal 

"As always, George's subplots provide . . . engrossing moments and memorable characters." —Chicago Tribune 

"Crime writing at its best." —The Courier-Mail 

"A writer of immense power, keen intelligence, and profound sensitivity." —Richmond Times-Dispatch

"[Lynley is] one of the great character portraits in contemporary crime fiction." —The Boston Globe