Whiteout (Paperback)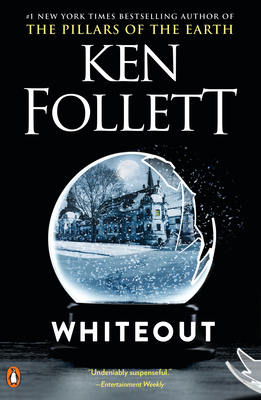 Staff Reviews
---
Men's Discussion Group selection, September 2021, Redbery Books, Cable, WI.
— From
Men's Discussion Group
Description
---
"Everyone likes a page-turner, and Follett is the best." —The Philadelphia Inquirer

"A hell of a storyteller" (Entertainment Weekly), #1 New York Times bestselling author Ken Follett reinvents the thriller with each new novel. But nothing matches the intricate knife-edge drama of Whiteout. . . .

A missing canister of a deadly virus. A lab technician bleeding from the eyes. Toni Gallo, the security director of a Scottish medical research firm, knows she has problems, but she has no idea of the nightmare to come.
 
As a Christmas Eve blizzard whips out of the north, several people, Toni among them, converge on a remote family house. All have something to gain or lose from the drug developed to fight the virus. As the storm worsens, the emotional sparks—jealousies, distrust, sexual attraction, rivalries—crackle; desperate secrets are revealed; hidden traitors and unexpected heroes emerge. Filled with startling twists at every turn, Whiteout rockets Follett into a class by himself.
About the Author
---
Ken Follett is one of the world's best-loved authors, selling more than 160 million copies of his thirty books. Follett's first bestseller was Eye of the Needle, a spy story set in the Second World War. 

In 1989 The Pillars of the Earth was published, and has since become the author's most successful novel. It reached number one on bestseller lists around the world and was an Oprah's Book Club pick.
 
Its sequels, World Without End and A Column of Fire, proved equally popular, and the Kingsbridge series has sold 38 million copies worldwide.
 
Follett lives in Hertfordshire, England, with his wife Barbara. Between them they have five children, six grandchildren, and three Labradors.
Praise For…
---
Praise for Whiteout
"A blizzard of treachery and violence . . . an adrenaline-pumping thriller." —
The Associated Press
"[A] feverish plot." —
Rocky Mountain News
"Movie-style twists and hairbreadth escapes." —
The Wall Street Journal
"Undeniably suspenseful." —
Entertainment Weekly
"Scary . . . provides a rush of fear." —
New York Post
"Almost nonstop action with a plausible and sufficiently frightening plot . . . a page-turner, pure and simple." —
The Tennessean
"Follett goes down a high-concept road. . . . [He] handles the tension of the circumstances nicely." —
San Francisco Chronicle
"A literate, plausible, suspenseful tale that keeps you turning pages well past bedtime." —
The Raleigh News & Observer
"A new breed of thriller . . . an agonizingly protracted, nail-biter ending drags readers to the very edge of their seats and holds them captive until the last villain is satisfactorily dispatched." —
Publishers Weekly
"Follett's sure hand at the controls of a high-octane plot delivers the expected thrills." —
Booklist
"Exciting? Absolutely. . . . Follett makes the formula work with his trademark strong females, large cast of characters, and race-against-the-clock pace . . . high-speed escapism." —
Library Journal
"Follett's trademark tension and breakneck pacing." —
Kirkus Reviews
"Exciting." —
The Kansas City Star