The New Rules of Coffee: A Modern Guide for Everyone (Hardcover)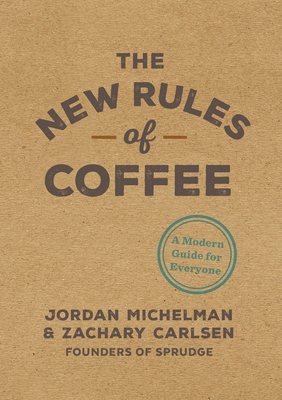 Description
---
An illustrated guide to the essential rules for enjoying coffee both at home and in cafes, including tips on storing and serving coffee, coffee growing, roasting and brewing, plus facts, lore, and popular culture from around the globe.

This introduction to all things coffee written by the founders and editors of Sprudge, the premier website for coffee content, features a series of digestible rules accompanied by whimsical illustrations. Divided into three sections (At Home, At the Cafe, and Around the World), The New Rules of Coffee covers the basics of brewing and storage, cafe etiquette and tips for enjoying your visit, as well as essential information about coffee production (What is washed coffee?), coffee myths (Darker is not stronger!), and broadcasts from a new international coffee culture.
About the Author
---
JORDAN MICHELMAN and ZACHARY CARLSEN are the co-founders of Sprudge.com, the world's most popular coffee publication, and publishers of the Sprudge Media Network, an international network of websites covering coffee (and as of 2017, wine) around the world. Michelman and Carlsen publish work from more than 100 contributors each year, and manage staff writers and editors in New York City, Tokyo, Amsterdam, Los Angeles, London, Melbourne, and San Francisco.
Praise For…
---
"This book is a perfect gift for all coffee lovers: from people who only drink coffee if it's in a Frappuccino to those who don't blink at spending $25 on a bag of beans."
—HuffPost

"Whether you're a coffee novice still trying to figure out what to order at your local cafe, or a connoisseur aiming to broaden your knowledge, there really is something in this small book for everyone."
—The Food Network