Food52 Big Little Recipes: Good Food with Minimal Ingredients and Maximal Flavor [A Cookbook] (Food52 Works) (Hardcover)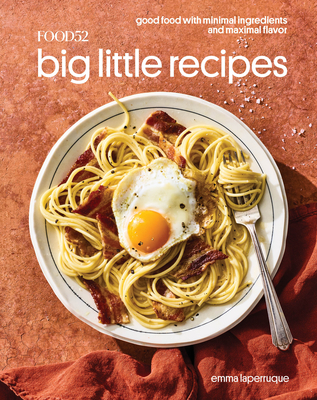 Description
---
Fewer ingredients, big-time flavors—that's the magic of Big Little Recipes. Inspired by Food52's award-winning column, this clever cookbook features 60 new recipes that'll deliver wow-worthy results in five, four, three . . . or, yep, even two ingredients.

NAMED ONE OF THE BEST COOKBOOKS OF THE YEAR BY THE WASHINGTON POST

Put down the long grocery lists. Food52's Big Little Recipes is minimalism at its best. From pasta sauce you'll want by the gallon to chewy-dreamy oatmeal cookies, this cookbook is packed with crowd pleasers and smart techniques—showing just how much you can accomplish with essentials you can count on one hand.

Can long-winded classics, like chili or eggplant Parmesan, work for busy weeknights? Why, yes. Will chicken noodle soup taste even more chicken noodle-y with just three ingredients? Absolutely. Does subbing in olive oil for butter in lemon bars really make a difference? You bet. With Emma Laperruque by your side, you'll learn how to make every step count and flavor sing. (She'll even prove that water—yes, water—can be invaluable in everything from ultra-tender meatloaf to veggie burgers.)

There's no shortage of extras, too. You'll find tons of need-to-know tips, mini-recipe spreads, and choose-your-own-adventure charts to give meal-planning a burst of energy: A fervent case for simpler homemade stock, a loving ode to canned tuna, a very good reason to always have bananas in your freezer, and more. This'll be your new sidekick for every meal—fresh-as-heck salads, brothy comfort foods, brawny meats, briny fishes, and hearty vegetables that'll take center stage. Big Little Recipes shows busy home cooks how to turn less into more.
About the Author
---
Emma Laperruque is the food editor at Food52 and an award-winning columnist for "Big Little Recipes." Before this, she worked as a line cook, middle-of-the-night baker, and journalist. Now she lives in the Taylor-ham part of New Jersey with her husband and their cat, Butter.

Food52 was founded by Amanda Hesser and Merrill Stubbs—two authors and opinionated home cooks who formerly worked for the New York Times—to celebrate food as the center of a well-lived life with recipes, books, home goods, and more.
Praise For…
---
"These are recipes for everyone to make every day— they're bright, simple, smart, and fun. Big Little Recipes is chockablock with exciting dishes and such good ideas for getting a bushel of flavor out of a handful of ingredients."—Dorie Greenspan, author of Baking with Dorie

"Emma's big little recipes are exactly that— vibrant eruptions of flavor lovingly wrapped in a tiny package of just a few ingredients. These approachable dishes are easy to cook through, allowing you to pick up helpful gems to carry with you every day. She is also a woman after my own heart, creating the ultimate BLT by turning it into the salad of my dreams."—Sohla El-Waylly, chef and Food52 resident

"Marvelously rich in flavor and brimming with splendid ideas! In this book, Emma shares her remarkable repertoire of kitchen wisdom through recipes that will surely build confidence in the cook."—Nik Sharma, author of The Flavor Equation and Season