Ancient Brews: Rediscovered and Re-created (Hardcover)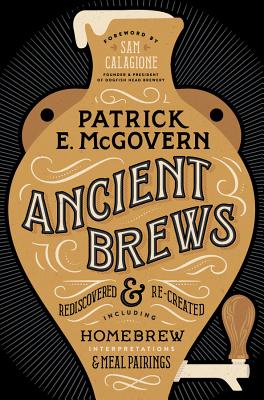 Description
---
Patrick E. McGovern—part modern scientist, part Indiana Jones—uncovers and re-creates the oldest alcoholic beverages ever found.
In Ancient Brews, Patrick E. McGovern takes us on a fascinating journey through time, back to the beginning when our ancestors were likely already experimenting with high-sugar fruits, honey, roots and cereals, herbs and tree resins to concoct the perfect drink.
Early beverage-makers must have marveled at the magical process of fermentation. Their amazement would have grown as they drank the mind-altering liquids, which were to become the medicines, religious symbols, and social lubricants of later cultures.
Interweaving archaeology and science, McGovern leads us on his adventures to China, Turkey, Egypt, Italy, Scandinavia, Honduras, Peru, and Mexico. We share in his laboratory discoveries, including an early Neolithic "cocktail" from China made of wild grapes, hawthorn fruit, rice, and honey; an elite New World cacao beverage that gods and kings delighted in; and the Midas Touch of central Turkey. These liquid time capsules defied modern conventions by mixing wines, beers, meads, and botanicals together into heady, delicious extreme beverages.
For the intrepid reader, homebrew interpretations of each ancient beverage and culturally appropriate matching meal recipes are provided, transporting our senses and imaginations "back to the future."
About the Author
---
Patrick E. McGovern is the scientific director of the Biomolecular Archaeology Project for Cuisine, Fermented Beverages, and Health at University of Pennsylvania Museum and an adjunct professor of anthropology. He and Sam Calagione, founder of Dogfish Head Brewery, collaborated on the series of Ancient Ales and Spirits.
Praise For…
---
Good and fun. . . . Ancient Brews is an excellent example of science outreach.

— Martin C. Doppelt

Fourier transform infrared spectroscopy has rarely been put to headier use.
— Barbara Kiser

Imagine: an archaeologist travels the world, testing the residue on pottery shards to unlock ancient recipes for beer and wine. And then—it gets better—he re-creates those recipes so that you, too, can raise a glass of King Midas's brew. Ancient Brews is an extraordinary, globe-trotting journey through the remarkable history of our ancient connection with alcohol. Patrick McGovern is both a brilliant scientist and a gifted storyteller. This astonishing book belongs on the shelf of every wine and beer aficionado. The historical and scientific perspective is sure to astonish and delight, and the recipes will lead to some lively experimentation among homebrewers.

— Amy Stewart, author of The Drunken Botanist

Of interest to home brewer and historian alike. . . . Ancient Brews may well get readers drinking (in moderation, of course). It will also get them thinking, especially when Mr. McGovern ponders alcohol's place in human society.

— Benjamin Shull

[McGovern is] the Indiana Jones of ancient ales and extreme beverages.

McGovern's joyful treasure hunt through time is pint after pint of proof that the best beers have the best stories, and are best enjoyed with all the trappings of a feast. Alcohol, McGovern shows, is fundamental, setting the heavens in motion, stirring the souls of birds and bees alike. What sets us apart isn't that we drink, but how—and that's where this book shines. Because the beers themselves—and there are plenty of them—are only the beginnings of delicious tales of swashbuckling scientists, gods and pharaohs, warriors and kings, and, oh yes, the best roasted goose I've ever had.

— William Bostwick, author of The Brewer's Tale

McGovern's mix of gee-wiz science and thoughtful historical context makes Ancient Brews a refreshing read.
— Kevin Begoes

A very enjoyable work that would intrigue anyone interested either in archaeology or beer.
— Martin Morse Wooster