cancelled (Paperback)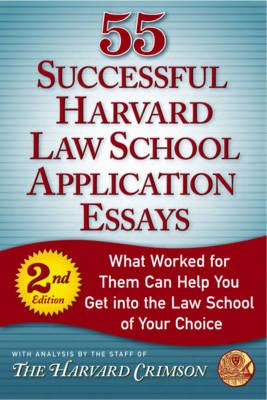 Description
---
Harvard Law School is one of the premier law schools in the world. Every year, thousands of elite applicants try for a few hundred slots. Of the dedicated few accepted to this venerable and ultra-competitive institution, fifty-five have shared the application essays that helped them make the cut.
Each essay is analyzed by the staff of the
Harvard Crimson,
Harvard's daily newspaper, and accompanied by no-nonsense advice on how to craft your own: Flaunt your talents...all of them. Admissions officers need to hear about the strengths that don't show up in LSAT scores or on a college transcript. Lead the pack. Demonstrate your ability to lead, organize, and inspire others. Structure your essay for maximum impact. Reveal your passion, the discipline you bring to a demanding profession, and the strength of character you possess for the challenges that lie ahead.  Following on the success of the first edition of
55 Successful Harvard Law School Application Essays, 50 Successful Harvard Application Essays,
and
65 Successful Harvard Business School Application Essays,
this book will be an invaluable resource for anyone hoping to be accepted at the law school of their choice.
About the Author
---
THE HARVARD CRIMSON is the nation's oldest continually-operating daily college newspaper and is based in Cambridge, Massachusetts.