Standing Next to History: An Agent's Life Inside the Secret Service (Paperback)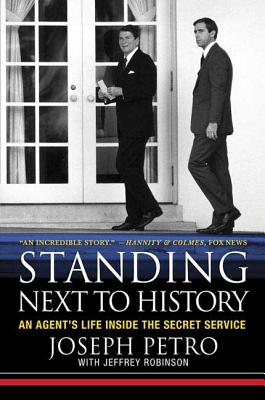 Description
---
Joseph Petro served for 23 years as a special agent in the United States Secret Service; eleven of them with presidents and vice presidents. For four of those years he stood by the side of Ronald Reagan.
Following his career as a Navy Lieutenant, during which he patrolled the rivers and canals along the Vietnamese-Cambodian border, he worked his way up through the Secret Service to become one of the key men in charge of protecting the President. That journey through the Secret Service provides an individual look inside the most discreet law enforcement agency in the world, and a uniquely intimate account of the Reagan presidency.
Engagingly, Joseph Petro tells "first hand" stories of: riding horses with the Reagans; eluding the press and sneaking the President and Mrs. Reagan out of the White House; rehearsing assassination attempts and working, then re-working every detail of the president's trips around the world; negotiating the president's protection with the KGB; diverting a 26 car presidential motorcade in downtown Tokyo; protecting Vice-President Dan Quayle at Rajiv Gandhi's funeral where he was surrounded by Yassir Arafat's heavily armed bodyguards; taking charge of the single largest protective effort in the history of the Secret Service-Pope John Paul II's 1987 visit to the United States; and being only one of three witnesses at the private meeting between President Reagan and Mikhail Gorbachev that ushered in the end of the Cold War.
Joseph Petro provides an original and fascinating perspective of the Secret Service, the inner workings of the White House and a little seen view of world leaders, as a man who stood next to history.
About the Author
---
After his time in the Secret Service, Joseph Petro went on to become head of global security and investigations for Citigroup. He is the author of Standing Next to History and lives in New York and Pennsylvania.

JEFFREY ROBINSON is the international best-selling author of more than two dozen books, both fiction and non-fiction. A recognized expert on organized crime and money laundering, The Takedown is his fifth investigative true crime exposé. He lives in New York.
Praise For…
---
"A readable and frequently engaging memoir of the author's 23 years in the Secret Service focuses on his time in the personal protective detail, guarding President Reagan and his family. In detailing his four years in that capacity, Petro burnishes the image of the Reagans as personally agreeable, even admirable, and easy to deal with in a professional context." - Publishers Weekly