Great Plains (Paperback)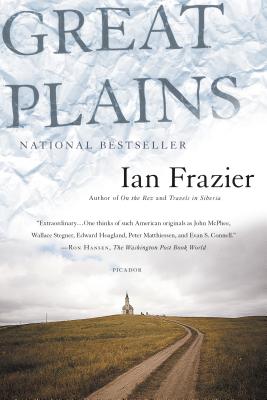 Staff Reviews
---
Along the way, in the visitor center in Badlands National
Park, I picked up Ian Frazier's Great
Plains, a book that was recommended to me by a friend a couple of years
ago. Published in 1989, the book is Frazier's ode to the open country that
sprawls through 10 states from the Canadian border south to Texas. It is both a
history and a contemporary view (albeit more than 20 years old now), and it is
so well-written that even a slow reader like me can be caught up and move
through it like wildfire on the prairie.
Frazier is a columnist for New Yorker magazine, and he's a funny guy. In the 1980s, he
traveled the Great Plains alone in his van, sleeping in truck stops and on road
shoulders most of the way; meeting people, visiting historical places long
since overgrown, and relating it all through the pages of this book. He relates
the region's Native American history with fascinating and thorough detail. He
talks about Crazy Horse and General Custer with equal aplomb, and he meets a
man claiming to be the grandson of Crazy Horse on the street in New York City. He
tells about Bonnie and Clyde's appearance in plains history, and he has a story
about Lawrence Welk, the most famous export of Strasburg, North Dakota, being
whacked on the head with a brick after playing at a dance. He describes ghost
towns and MX missile silos. He provides a history of the Dust Bowl and a
little-known episode called the "black exodus" from the Reconstructed south to
the freedom of the north. Through it all, he paints the most beautiful picture
of dust and grass and blue sky and baking heat and unbroken horizons that
perhaps anyone before or since has been able to convey.
Frazier is a scholar and a humanist, but most of all he is
an observer and a keen story teller. If a person wanted an overview of the
history of this immense part of the nation's mid-section, this is the place to
start. 
— Ted Gostomski, Redbery Books, Cable, Wisconsin
Description
---
National Bestseller

Most travelers only fly over the Great Plains--but Ian Frazier, ever the intrepid and wide-eyed wanderer, is not your average traveler. A hilarious and fascinating look at the great middle of our nation.

With his unique blend of intrepidity, tongue-in-cheek humor, and wide-eyed wonder, Ian Frazier takes us on a journey of more than 25,000 miles up and down and across the vast and myth-inspiring Great Plains. A travelogue, a work of scholarship, and a western adventure, Great Plains takes us from the site of Sitting Bull's cabin, to an abandoned house once terrorized by Bonnie and Clyde, to the scene of the murders chronicled in Truman Capote's In Cold Blood. It is an expedition that reveals the heart of the American West.
About the Author
---
Ian Frazier is the author of Travels in Siberia, Great Plains, On the Rez, Lamentations of the Father and Coyote V. Acme, among other works, all published by Farrar, Straus and Giroux. He graduated from Harvard University. A frequent contributor to The New Yorker, he lives in Montclair, New Jersey.
Praise For…
---
"Extraordinary...One thinks of such American originals as John McPhee, Wallace Stegner, Edward Hoagland, Peter Matthiessen, and Evan S. Connell." —The Washington Post Book

"This is a brillant, funny, and altogether perfect book, soaked in research and then aired out on the open plains to evaporate the excess, leaving this modern masterpiece. It makes me want to get in a truck and drive straight out to North Dakota and look at the prairie." —Garrison Keillor

"History written with passion and delight... Frazier is a great storyteller." —Newsweek