A Country for All: An Immigrant Manifesto (Paperback)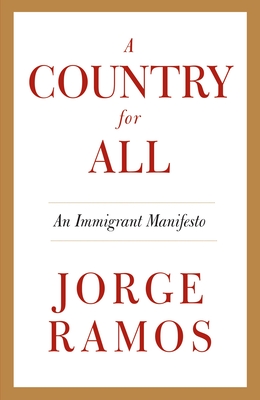 $14.95
Available for special order
Description
---
For decades, fixing the United States' broken immigration system has been one of the most urgent challenges facing our country, and time and time again, politicians have passed the buck. With anti-immigrant sentiment rising around the country, and presidential elections on the horizon, it's no surprise immigration reform is on every candidate's agenda. While some candidates offer viable solutions, others perpetuate negative stereotypes and unpractical resolve. Ramos fearlessly questions political tactics, and has undoubtedly become the voice of the Latino vote in the US. It is now more important than ever to remember the role immigrants play in enriching our economy and culture, and to find a way to incorporate the millions of productive, law-abiding workers who have been drawn to the United States by the inexorable pull of freedom and economic opportunity. 

In this timely book, award-winning journalist Jorge Ramos makes the case for a practical and politically achievable solution to this poignant issue. Ramos argues that we have a simple choice: to take a pragmatic approach that deals with the reality of immigration, or to continue a cruel and capricious system that doesn't work, wastes billions of dollars, and which stands in direct opposition to our national principles.
About the Author
---
Jorge Ramos is an Emmy Award winning journalist, syndicated columnist, and author of nine previous books. Hailed by Time magazine as one of "the 25 most influential Hispanics in the United States," Ramos anchors the nightly news and hosts a weekly political show on Univision, the country's largest Spanish-language television network. He regularly appears on ABC, CBS, NBC, and CNN to discuss immigrant rights. Born in Mexico City, Ramos has lived in the United States for more than twenty-five years.

Visit the author's website at www.jorgeramos.com.